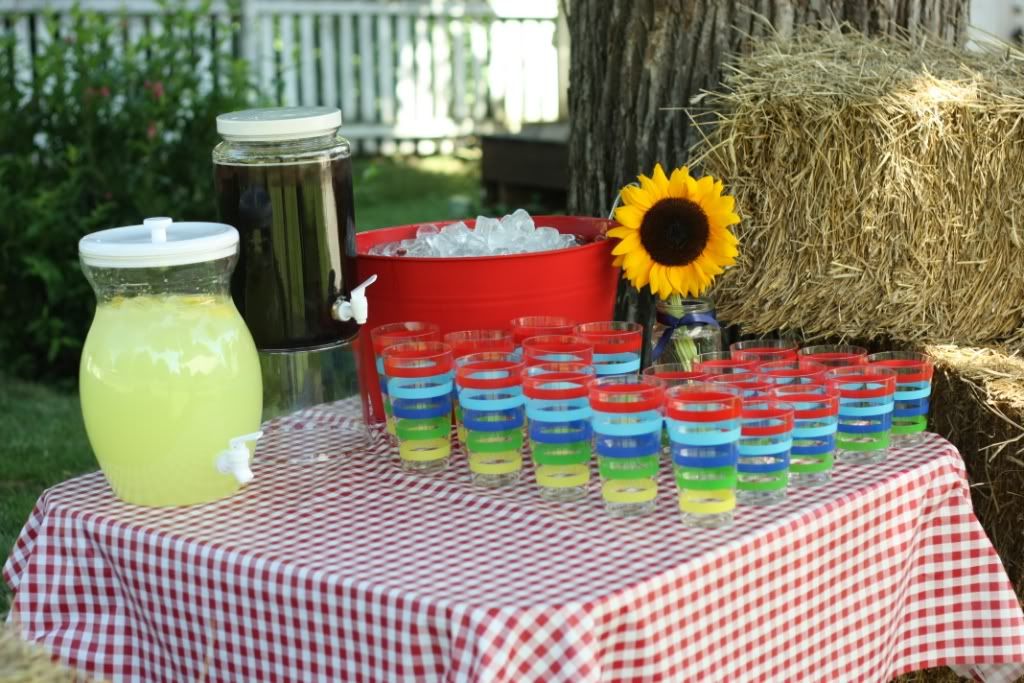 The hoedown BBQ my husband and I hosted was so much fun. I'm not sure what it was exactly, maybe the fact that just saying the word "hoedown" is cool, having perfect 83 degree weather with no humidity and plenty of sunshine, or an abundance of great food and drinks. Or obviously, all of the above.
Enjoy the TONS of photos I'vde included, plus a fun hoedown menu with links to
Reddi Wip
recipes.
Here's a little history on how this party came to be...my group of friends and I have a "BBQ Club". This basically means that once a month we rotate hosting a BBQ at our house. July was Erik's and my month. A couple months ago, a rep from
Reddi Wip
contacted me about the ultimate summer BBQ project. The project consisted of 6 party bloggers hosting BBQs and incorporating
Reddi Wip
into the menu. It was a perfect fit since I already had the BBQ on the calendar and I actually really like
Reddi Wip
(my girlfriends and I always eat it with fruit as dessert when we feel like eating something sweet but don't want to splurge on all the cals).
The rest is hoedown history.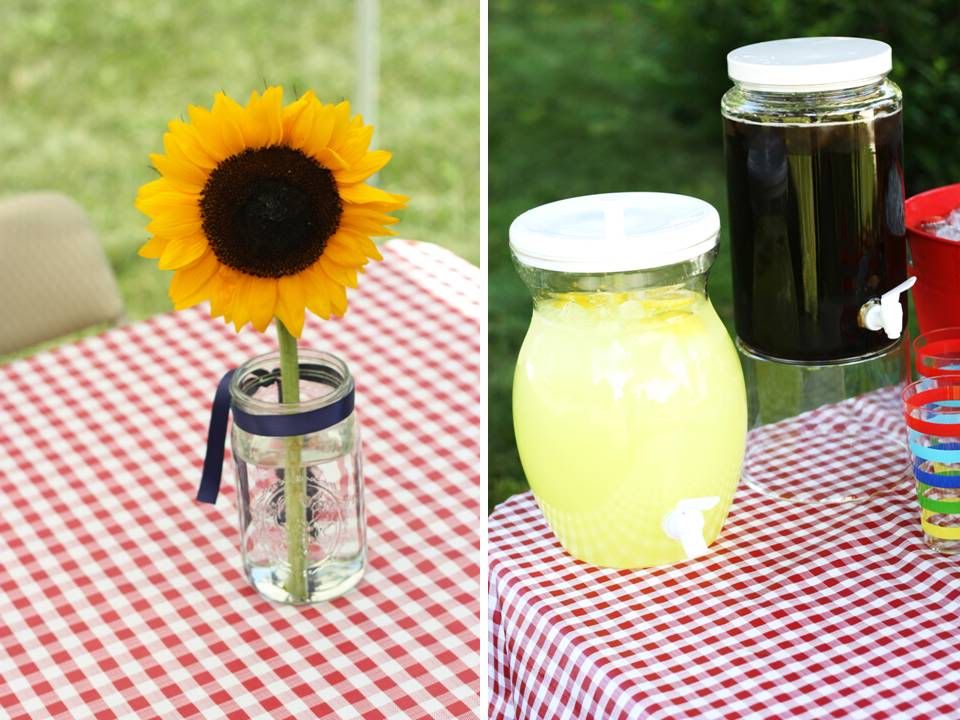 I focused on a few main details but didn't bother with stationery or labels. My friends wouldn't really notice that stuff. What they would notice? Great food. And there was plenty of that.
I purchased sunflowers at the St. Paul Farmers' Market and placed them in mason jars. The red and white gingham tablecloths were from JoAnn Fabrics. The hay bales totally made the hoedown vibe come to life. HUGE thanks to my friend Jason for picking those up for me.
We set up a drink station in the middle of the hay bales with iced tea, lemonade and Miller High Life. Erik claimed that beer paired perfectly with a hoedown. I suppose he was right.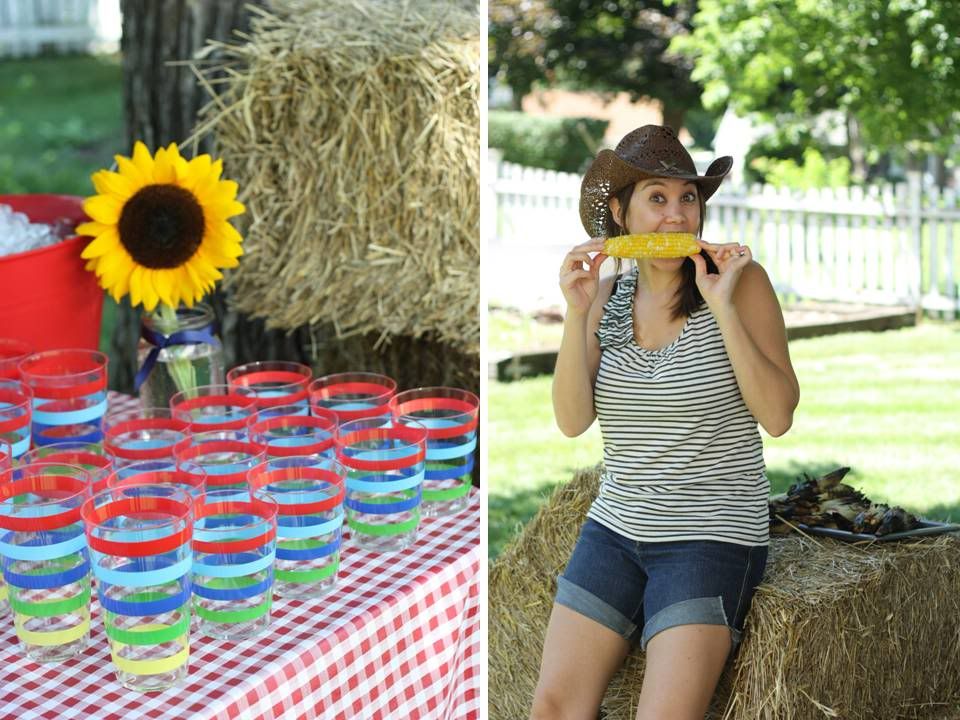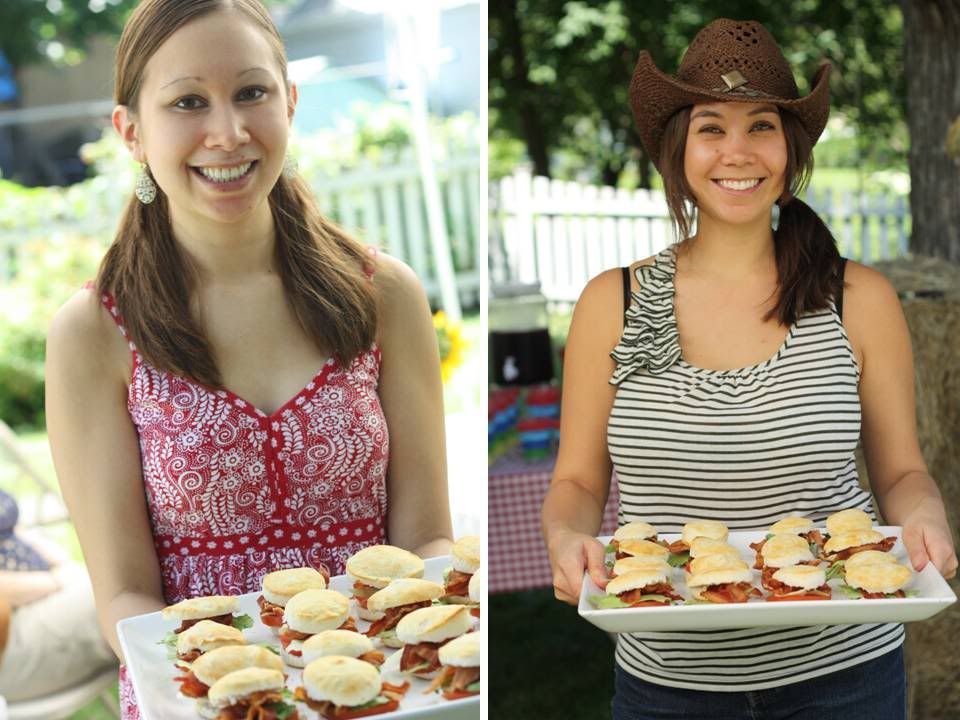 My cute sister and I with mini BLTs. These were a big hit.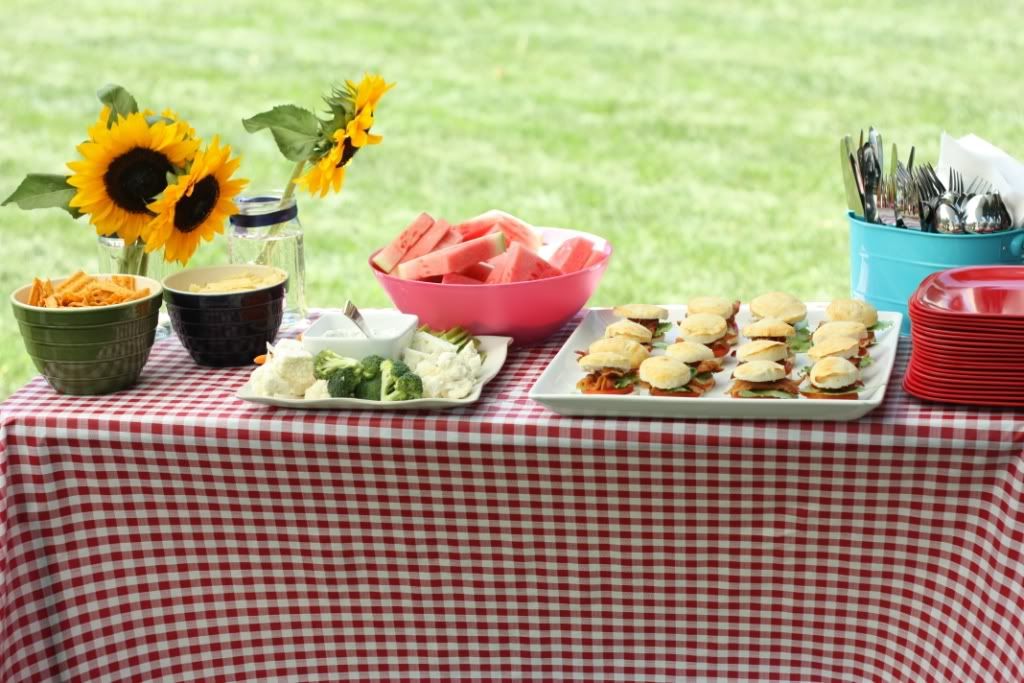 Here is the appetizer table that included watermelon, veggies and dip, mini BLTs and chips. I never, ever forget about chips.
Mini BLTs are so easy. I basically just take prepared, refrigerated biscuits, bake them in the oven, cut them in half and top with a slice of tomato, a teaspoon of mayo, a small piece of lettuce and one piece of bacon.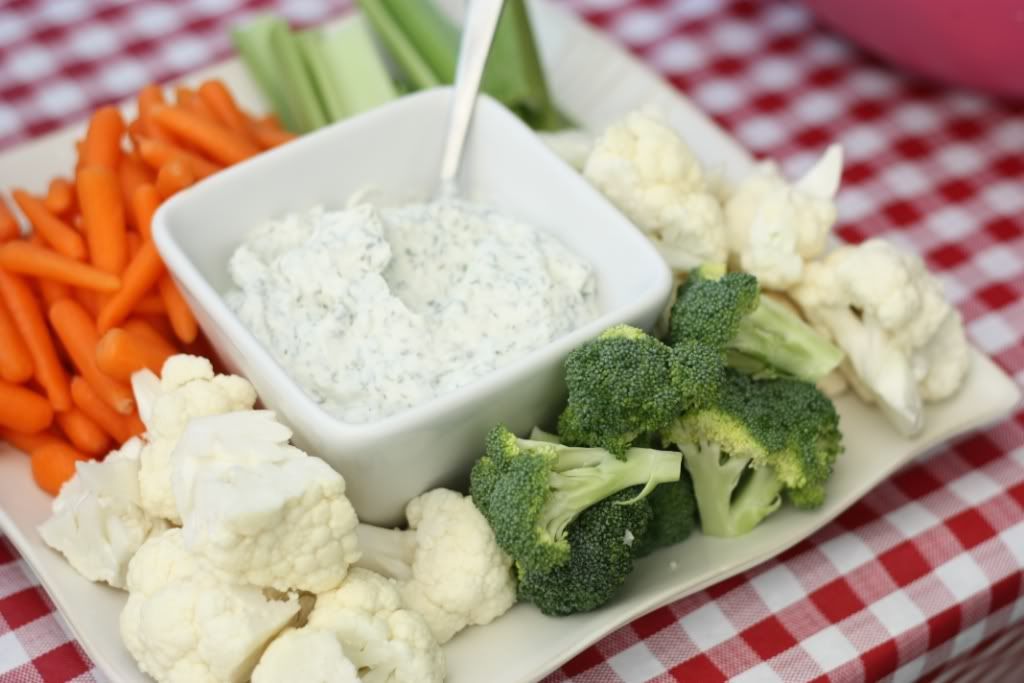 Veggies and dip for those healthy types. I forced myself to eat these between huge handfuls of potato chips.
I made a couple different boozey popsicles. One with rum and the other with champagne. Both had homemade raspberry simple syrup. They received mixed reviews. What I came to believe is the more drinks my guests had, the more likely they were to enjoy the popsicles. I think the boozey flavor concentrates as it freezes.
Biffer is on the right. He dressed up and looked awesome. His overalls were a bit short though!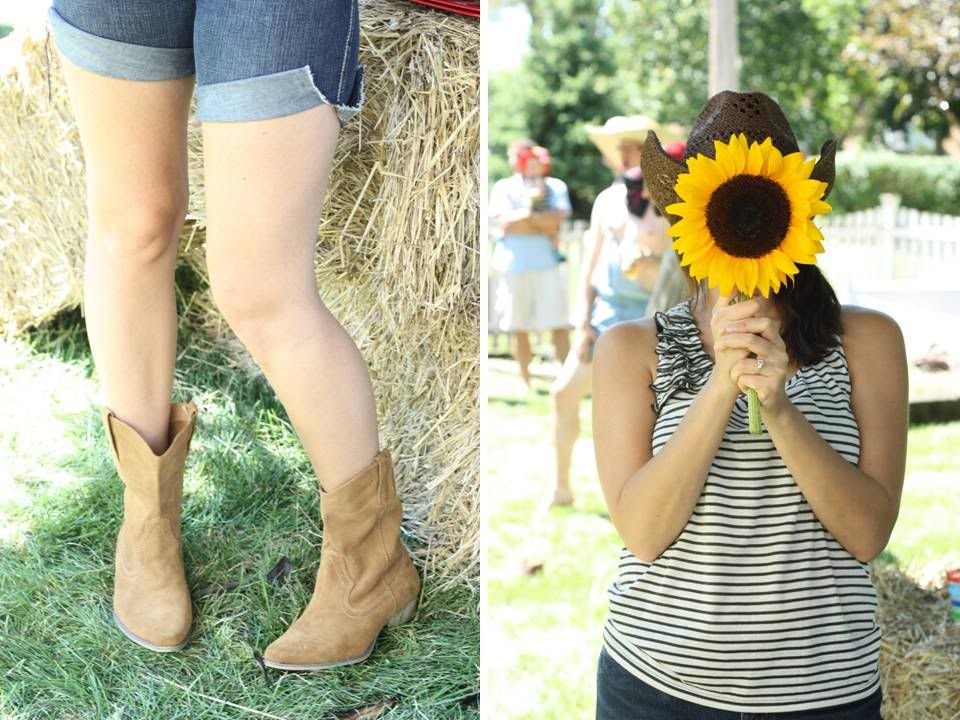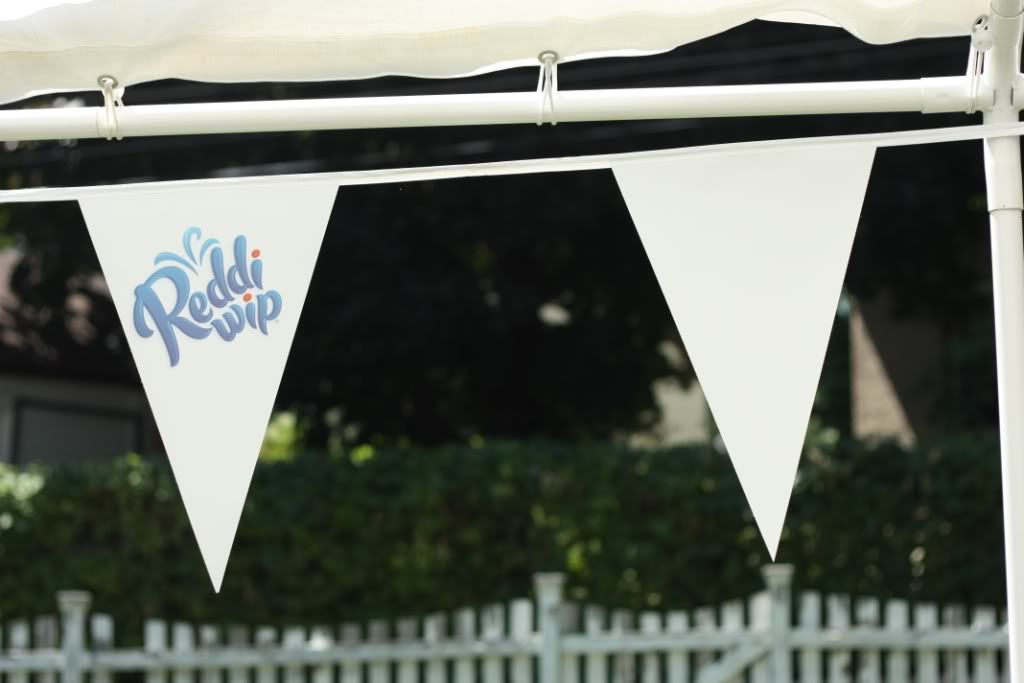 Reddi Wip
bunting that we hung in the tent.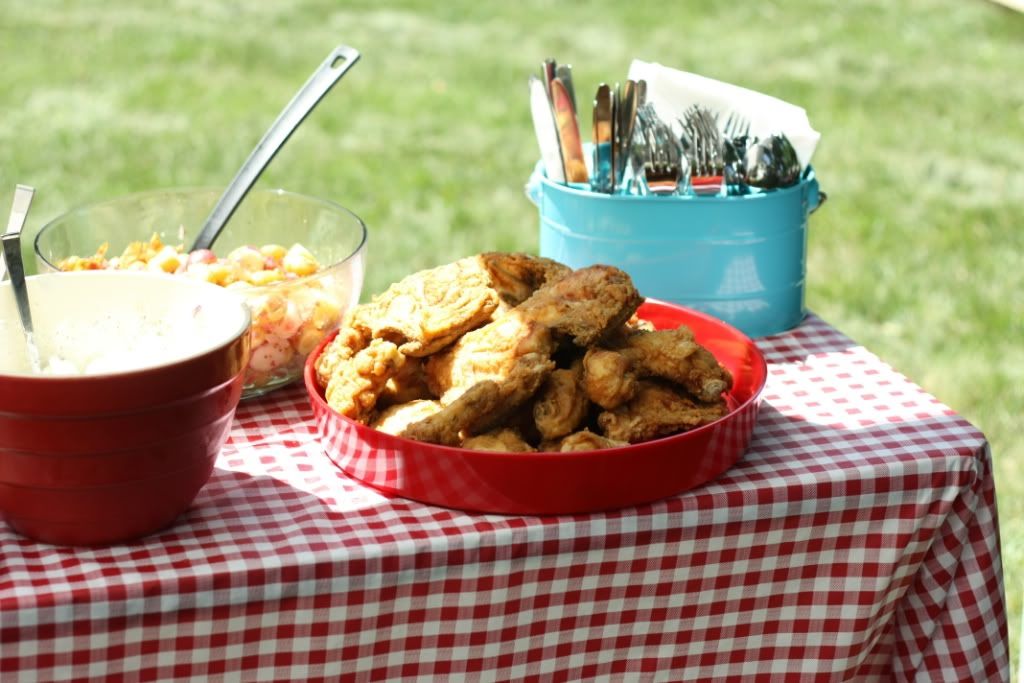 You can't have a hoedown without fried chicken. We catered it from
The Coop
in South St. Paul. It's delicious, if you are ever in the area check it out.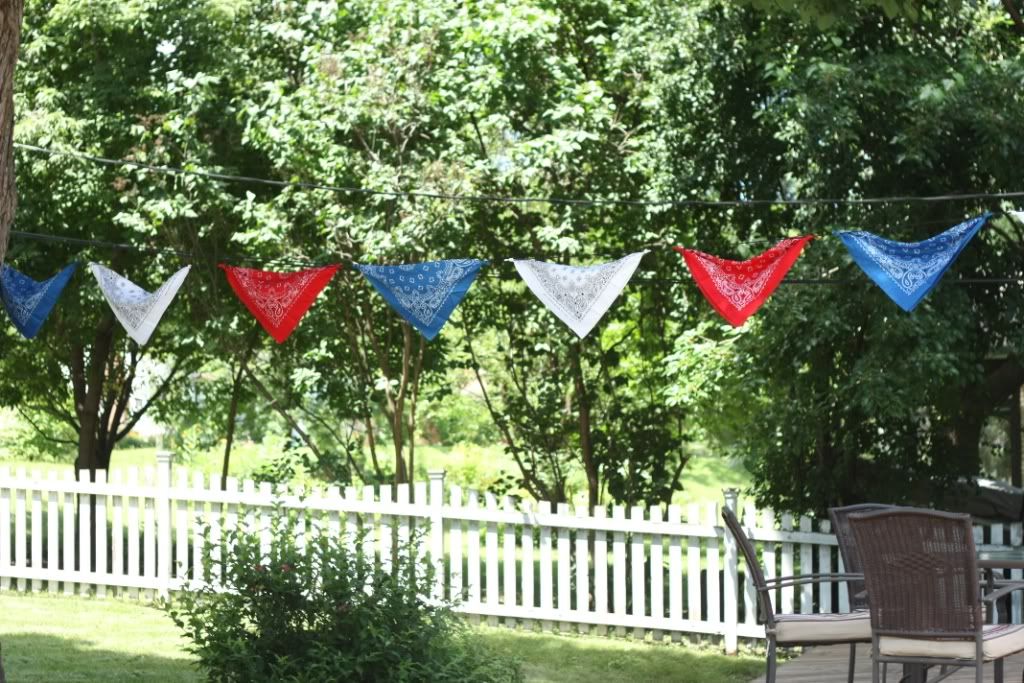 I made a quick bunting banner with bandanas. It was easy, fold a bandana in half (from JoAnn Fabrics) and tie each end to a string.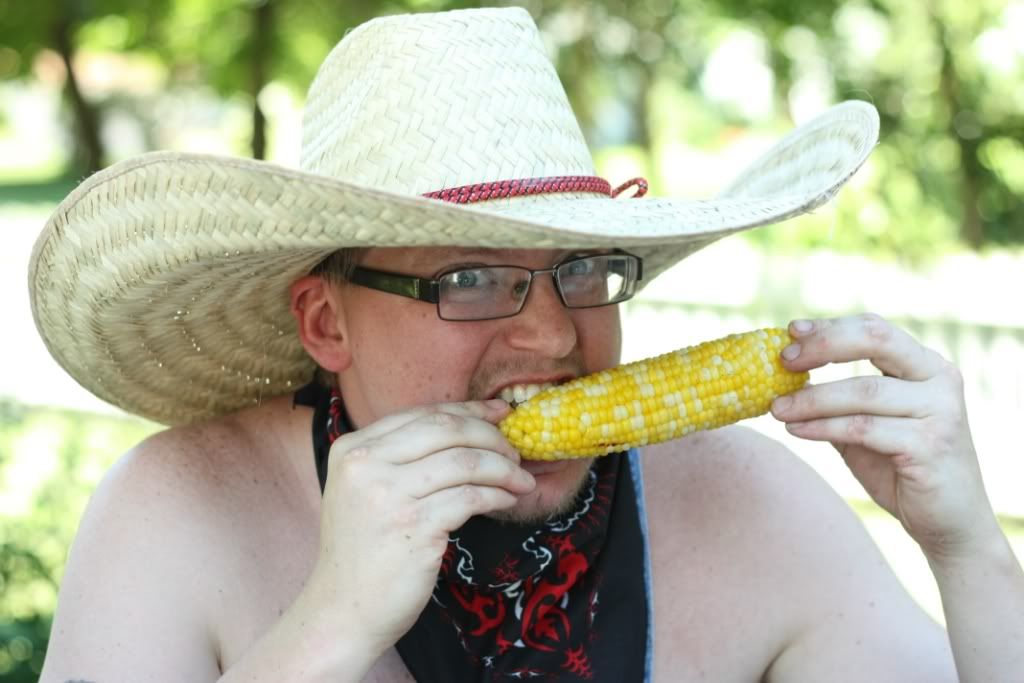 Grilled corn on the cob was on the menu as well. Shirts were coming off for some reason at this point in the day.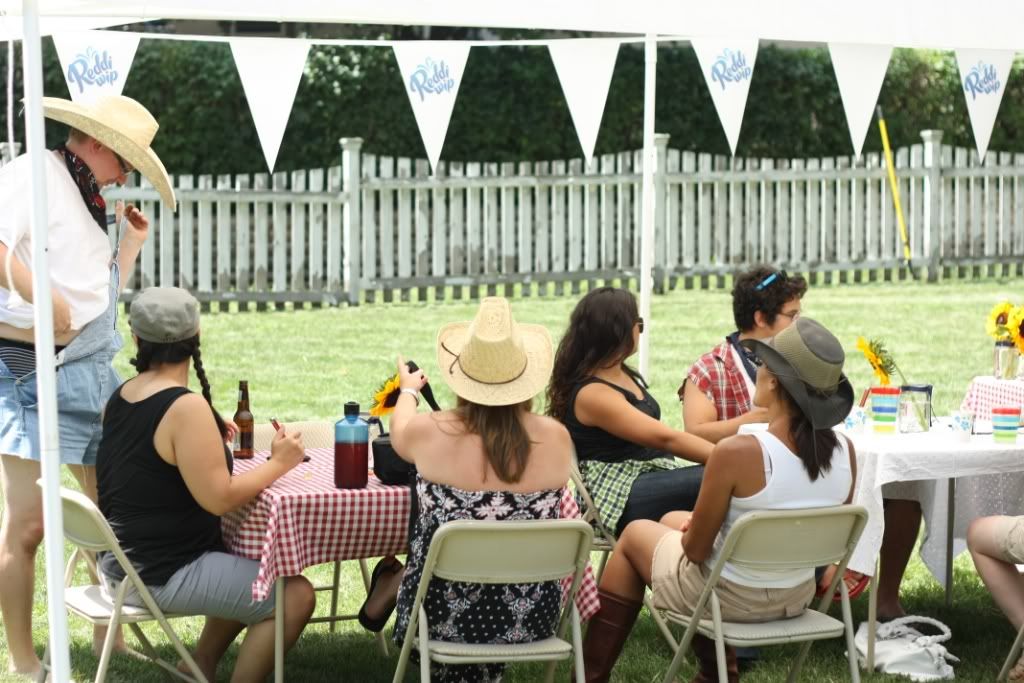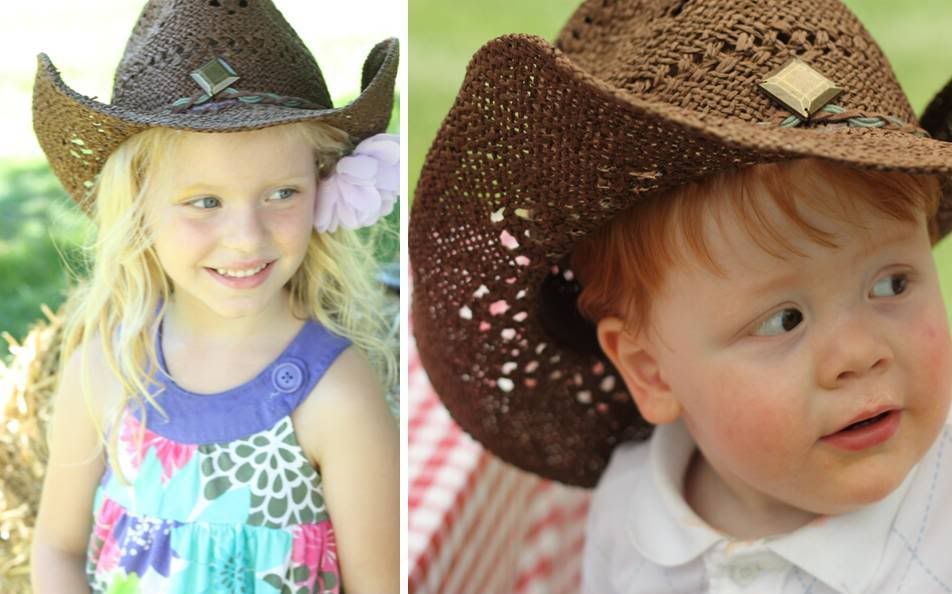 We had little cowgirls and cowboys enjoying the party as well.
That's my cute hubs working the grill.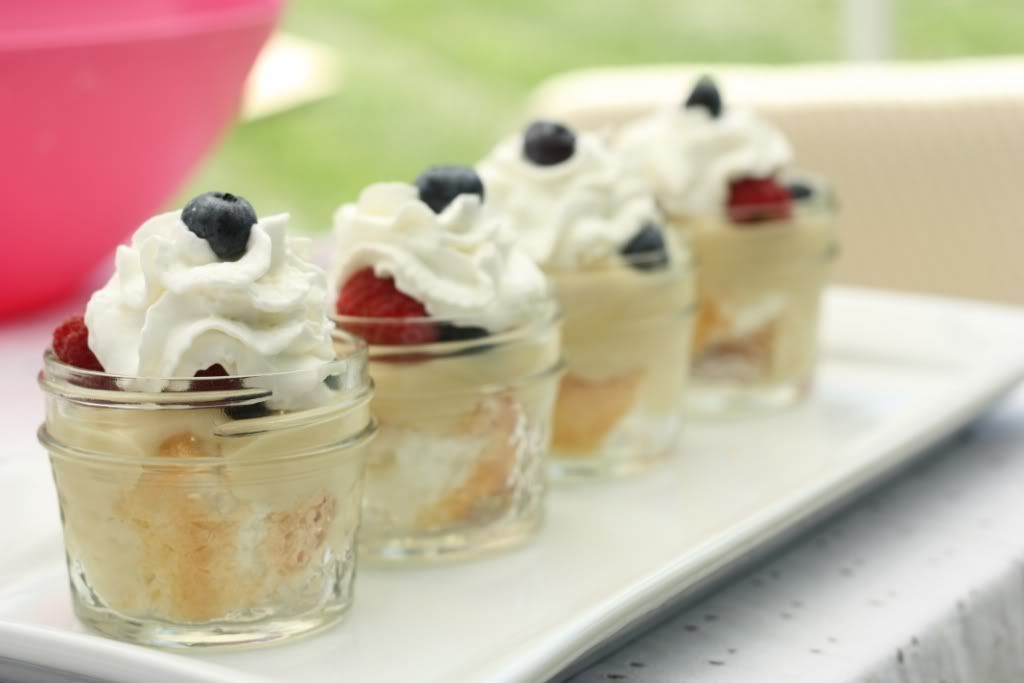 We had no shortage of
Reddi Wip
desserts. This was a berry pudding trifle that I made in mini mason jars. Perfect for individual servings.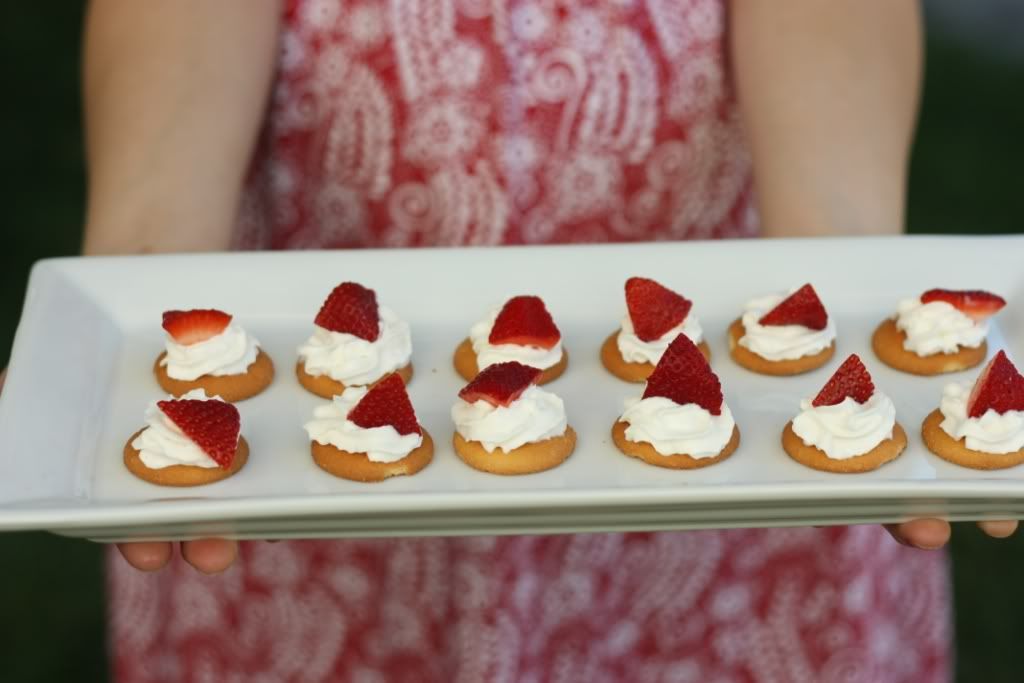 These were easy and called strawberries on a cloud. They tasted like little bites of cake. But they are much lighter. You only need one or two to satisfy your sweet tooth.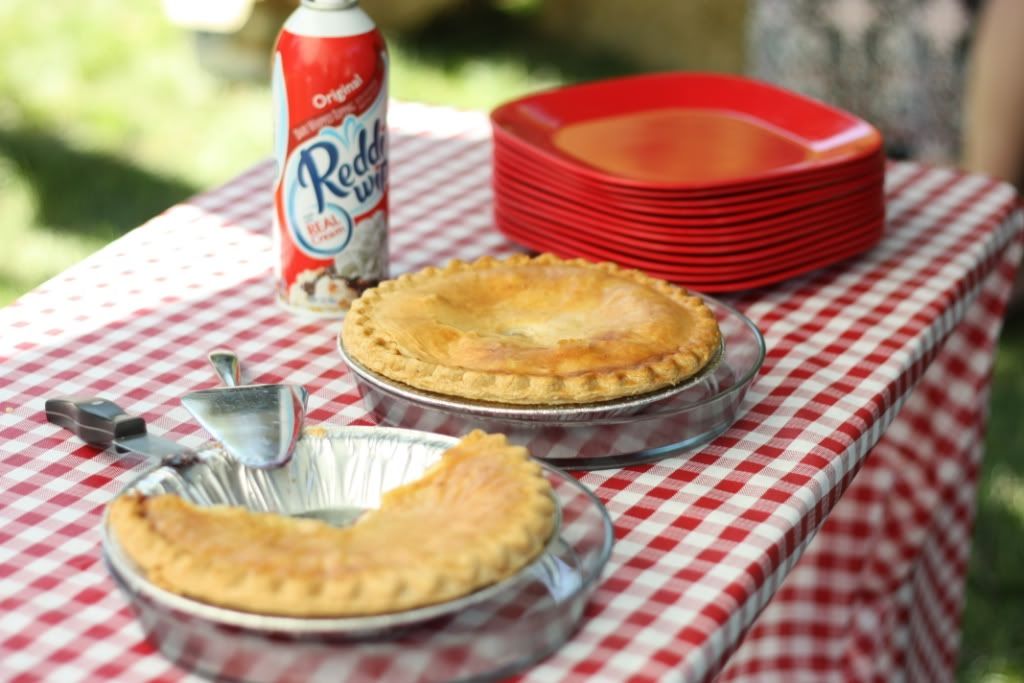 You can't have a hoedown without some pie and a good old fashioned pie eating contest. Three brave men participated. But only one could win.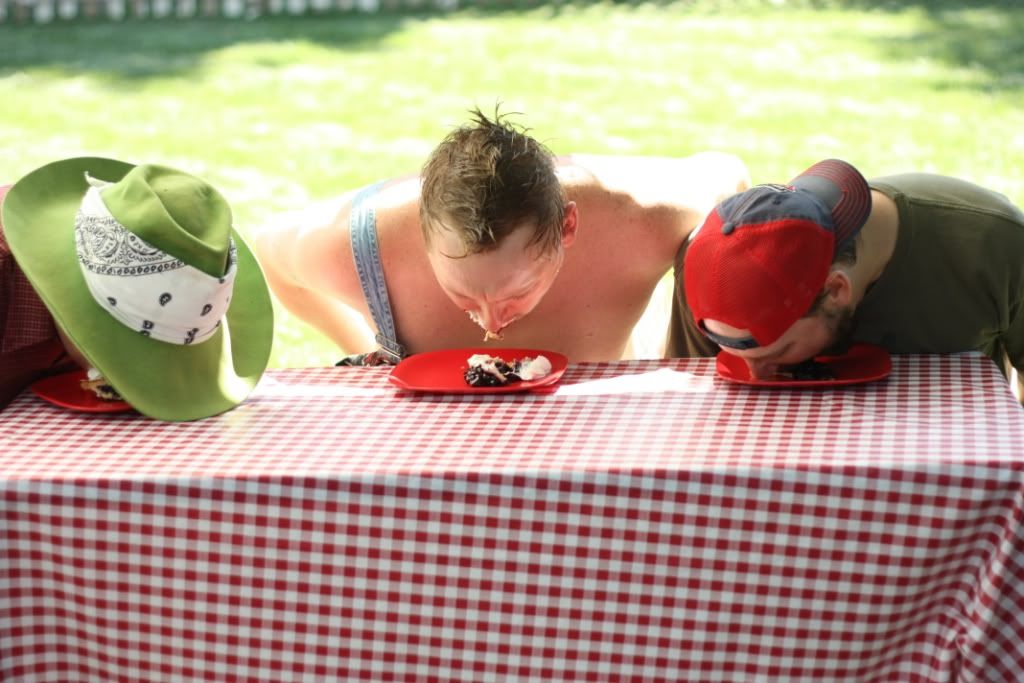 Untitled from jenna marfori lang on Vimeo.
Pie eating contests are funny and messy. Sorry for the crazy, dizzy video at the beginning. My sister is an amateur at taking video. I was busy screaming/laughing and taking photos.
Tardiff (on the left) was victorious. Biffer (Jason) came in second but also ended up with a blueberry up his nose. Willie gave his all but came in third. Good job guys.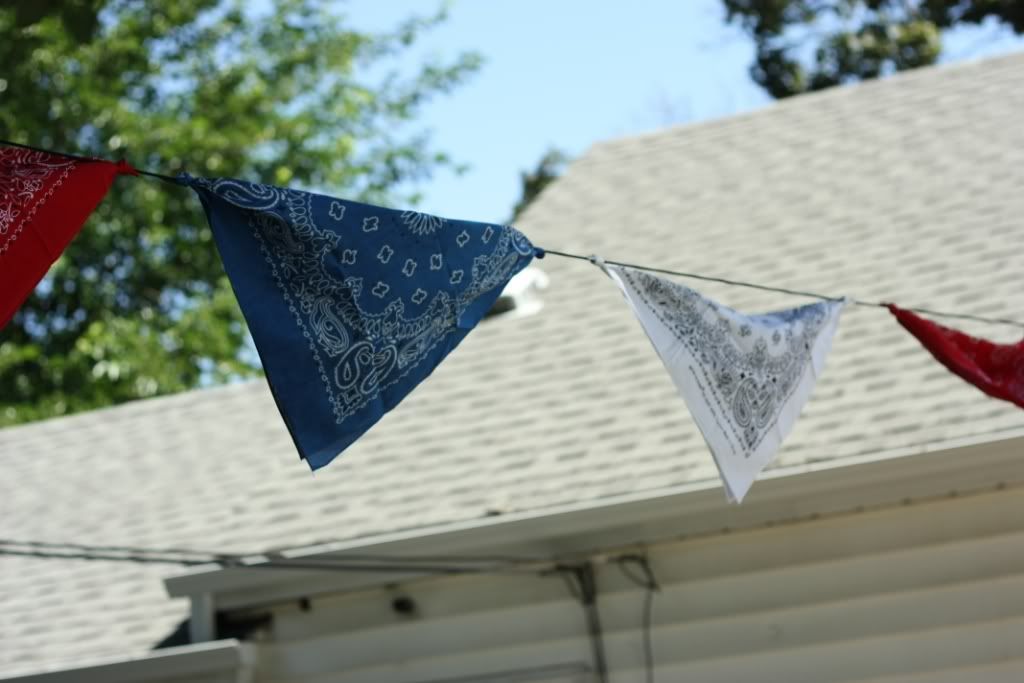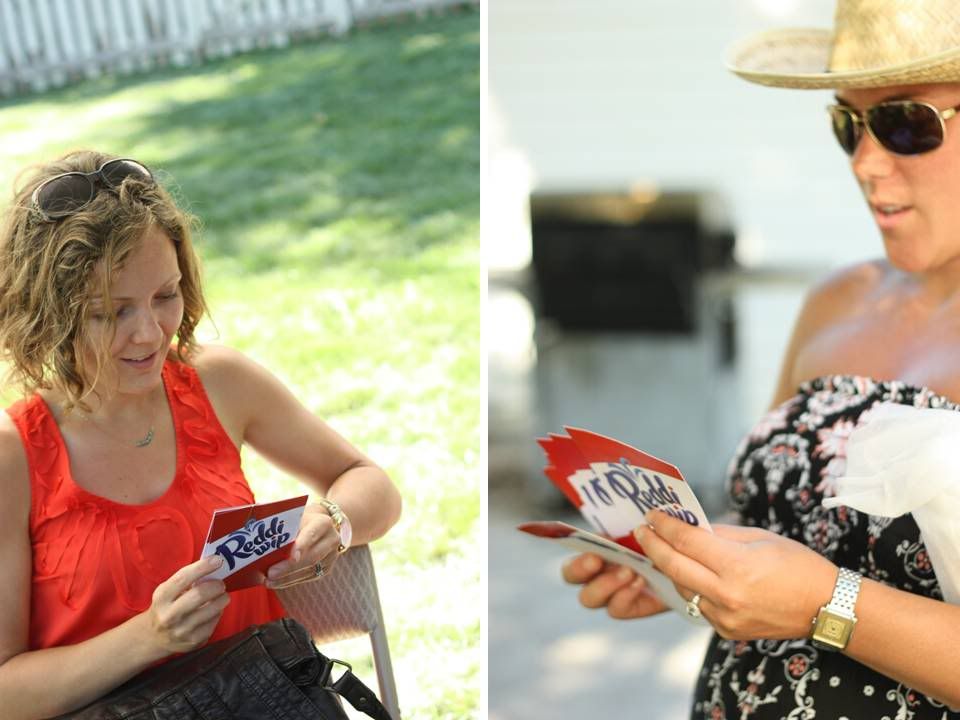 Each guest left the party with a packet of
Reddi Wip recipes
,
Reddi Wip
coupons and a cocktail shaker from Crate and Barrel. Pretty sweet, huh?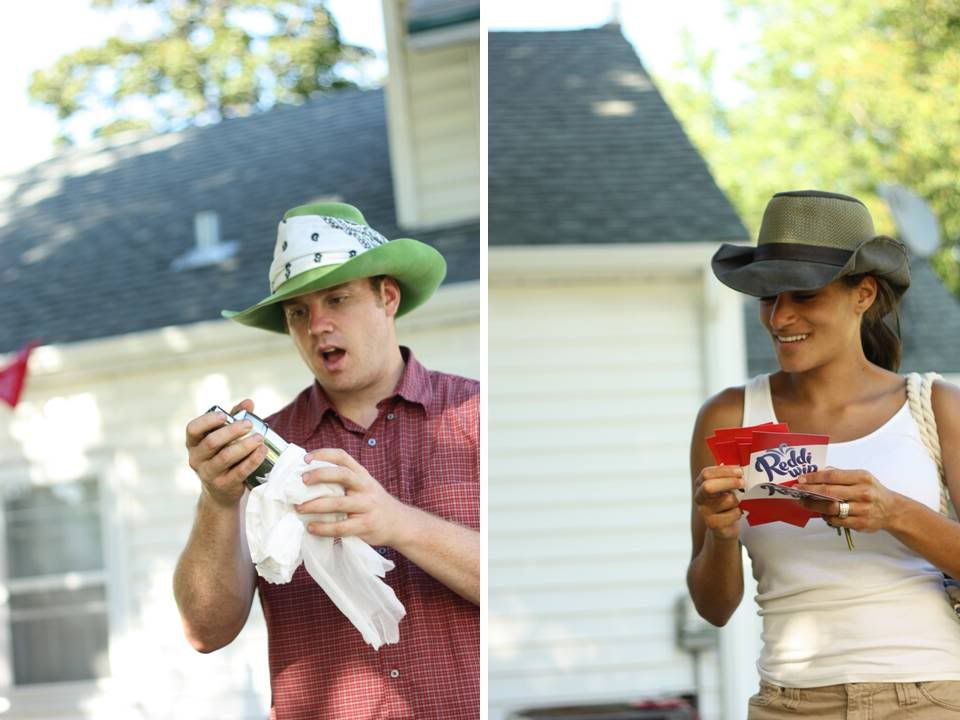 Here are a few fun facts.
Reddi Wip
is:
An easy way to transform berries into a light and creamy summer dessert – with none of the guilt.
A fun treat to top your family's favorite fruit – no matter the occasion.
Made with real dairy cream and with only 15 calories per serving, it's a treat you can feel good about eating any day of the week.
Hoedown menu
Appetizers
Watermelon
Chips
Mini BLTs
Veggies and dip
Main Course
Fried chicken
German potato salad
Cucumber salad
Baked beans
Dessert
Strawberries on a cloud
Berry pudding trifle
Apple pie with
Reddi Wip
Blueberry pie with
Reddi Wip
Big thanks to
Reddi Wip
for sponsoring my BBQ!