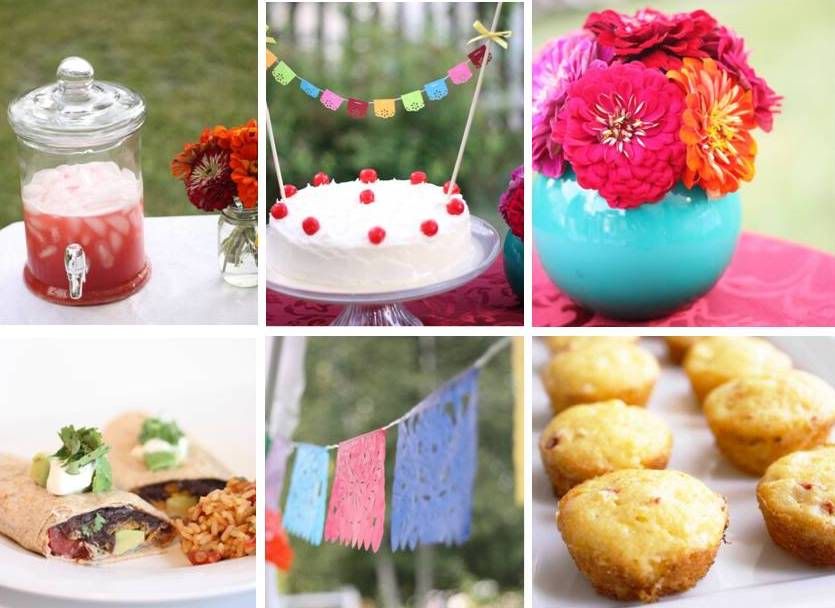 I LOVE Mexican food. I could eat it every single day. A great day would be one that starts with a breakfast burrito or huevos rancheros for breakfast, beef tacos for lunch and chicken enchiladas for dinner. Tortilla chips and guacomole are a given. I adore tortilla chips. Sometime I get into the "chip zone" and I never stop eating them. Like EVER. And then the next thing I know I'm a gazillion Weight Watcher points over my limit and the entire bag is gone.
In honor of Cinco de Mayo I created an inspiration board filled with photos and recipes that have been featured on Eat Drink Pretty. Here are some menu and decor ideas if you are hosting a Cinco De Mayo party this evening or weekend.
Menu
Strawberry Thyme Agua Fresca
Margaritas (homemade, of course...yeah you have to squeeze a ton of limes but it is so worth it)
Slow-cooker pulled pork tacos
Garlic and sun-dried tomato corn muffins
(add a dollup of sour cream and top with cilantro)
Chips and guacomole
Tres Leches cake
Decor
A bunch of colorful flowers filled in vibrant vases
Papel picado (
here
is a great tutorial on how to DIY your own from
The Sweetest Occasion
)
Guess what? I am going on vacation. Again. Remember my recent
Colorado trip
? Well this Saturday I will be heading south to spend some quality time with my family on the beach (Florida!). More info on that tomorrow!
Do you have any fun plans for the evening? How about this upcoming weekend?