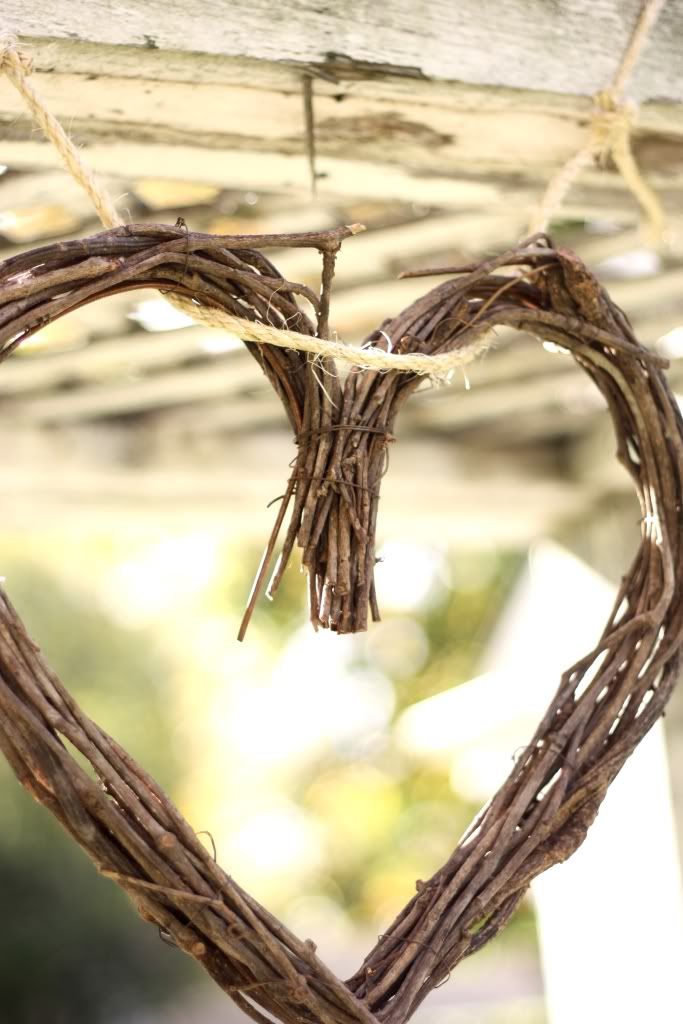 My husband and I are going to be the matron of honor and best man in our friend's, Libby and Biffer's wedding so we threw them an engagement party this weekend. The party was fall-inspired; outdoors, casual, cozy, comfort food, s'mores, a bonfire and lots of fun.
We hung the above branch heart from an arch as guests entered our backyard.  I found it at Michaels for $4.99 and thought it fit right in with the theme.
We had a s'mores table and I made a banner that read "s'more love".  All the tables were covered with burlap (found at JoAnn Fabrics for only $3/yard).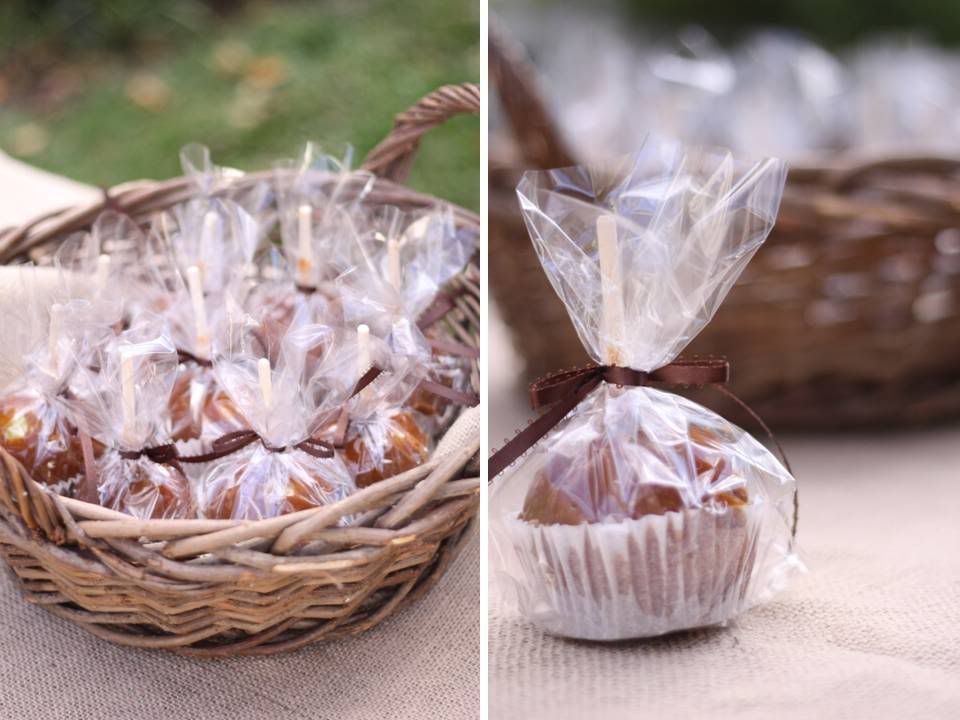 We had caramel apple favors that we placed in a basket with burlap inside.  My sister actually helped me out quite a bit with this party.  She wrapped all the apples in cellophane bags and tied with a brown ribbon.  Thanks Katie!
We strung thick twine from our house and wrapped around a tree so we could hang mason jars from ribbon.  I also used a large chalkboard to display the menu.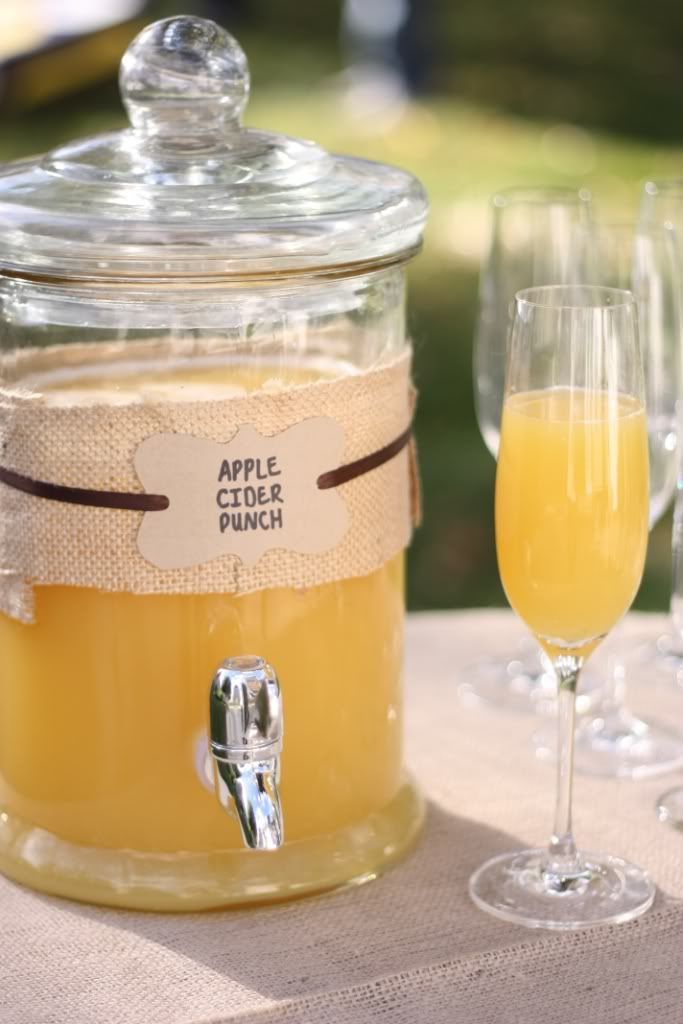 I found this awesome apple cider punch recipe from Better Homes and Gardens.  It is the perfect festive fall cocktail.  Delicious.  To add a little detail to the drink dispenser I wrapped burlap around it and tied with a label and ribbon.
Apple Cider Punch (recipe from BHG)
Ingredients
6 cups apple cider
2 cups orange juice, cranberry-raspberry juice, or orange-mango juice (I used orange juice)
1/2 cup lemon juice
1 750-ml bottle sparkling white grape juice or sparkling wine
Directions
1. In punch bowl, large pitcher, or pitchers combine apple cider, orange juice, and lemon juice. Slowly add sparkling white grape juice or sparkling wine. Serve immediately.
I incorporated some of the guests of honor's favorite foods.  Libby loves cheese and bread.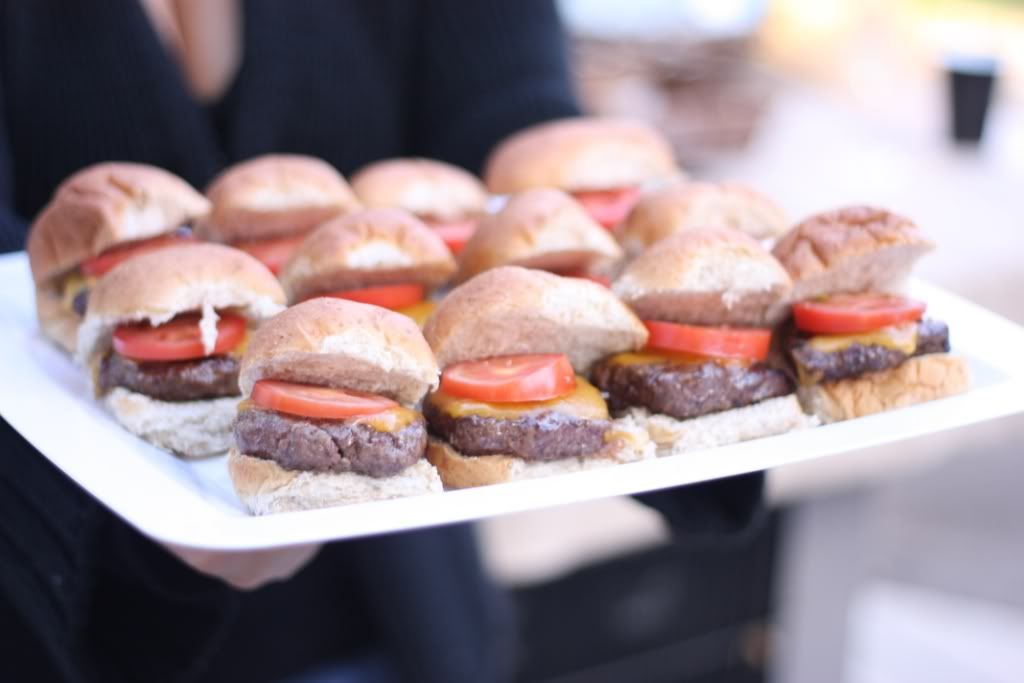 We served mini cheeseburgers as appetizers. Yum.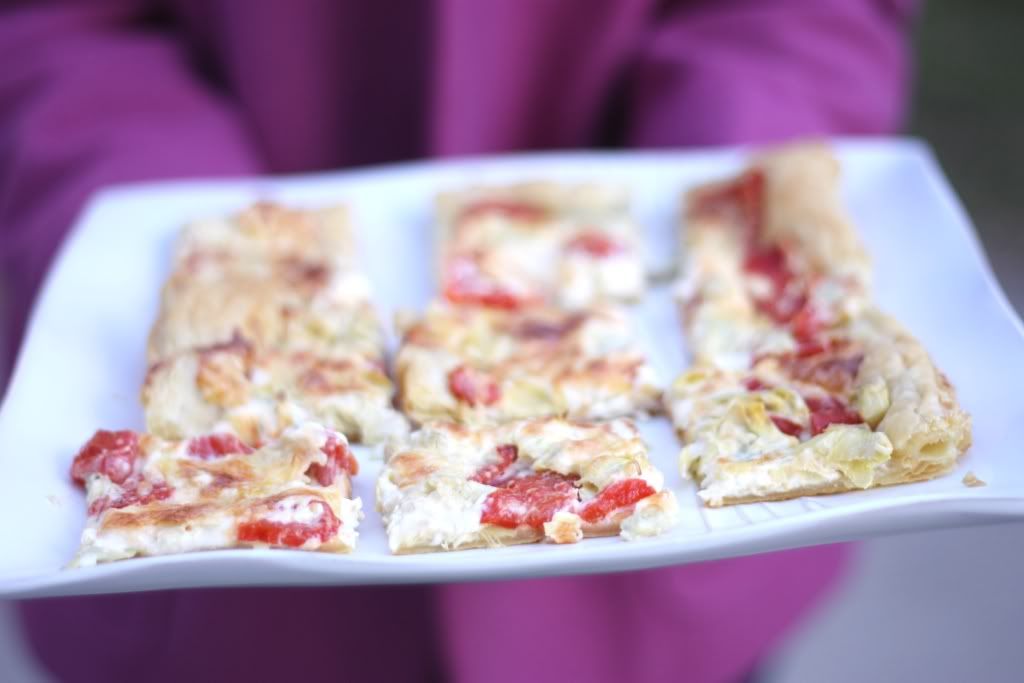 I also made an artichoke and cheese tart to be served as an appetizer.  This tart is super easy, savory and delicious.  It was a huge hit.
Artichoke and Cheese Tart (recipe from Pepperidge Farm)
Ingredients
1/2 pkg. (4 ounces) cream cheese, softened
1/2 cup shredded mozzarella cheese (about 4 ounces)
1/2 cup freshly grated Parmesan cheese (about 4 ounces)
1/2 can (about 14 ounces) artichoke heart, drained and chopped
1/2 cup diced roasted red pepper
1/4 cup chopped fresh parsley
1 sheet puff pastry, thawed
Directions
Heat the oven to 400°F.
Stir the cream cheese, mozzarella cheese and 1/4 cup Parmesan cheese in a medium bowl. Stir in the artichokes, red pepper and parsley.
Unfold 1 pastry sheet on a lightly floured surface. Roll the pastry sheet into a 12-inch square. Place the pastry sheet onto a baking sheet. Brush the edges of the pastry with water. Fold over the edges 1/2 inch on all sides, crimping with a fork to form a rim. Prick the center of the pastry thoroughly with a fork..
Spread cheese mixture to within 1/2 inch of the rims. Sprinkle with the remaining Parmesan cheese.
Bake for 20 minutes or until the pastry is golden brown and the cheese is melted. Let cool on the baking sheets on wire racks for 5 minutes. Cut pastry into 20 pieces.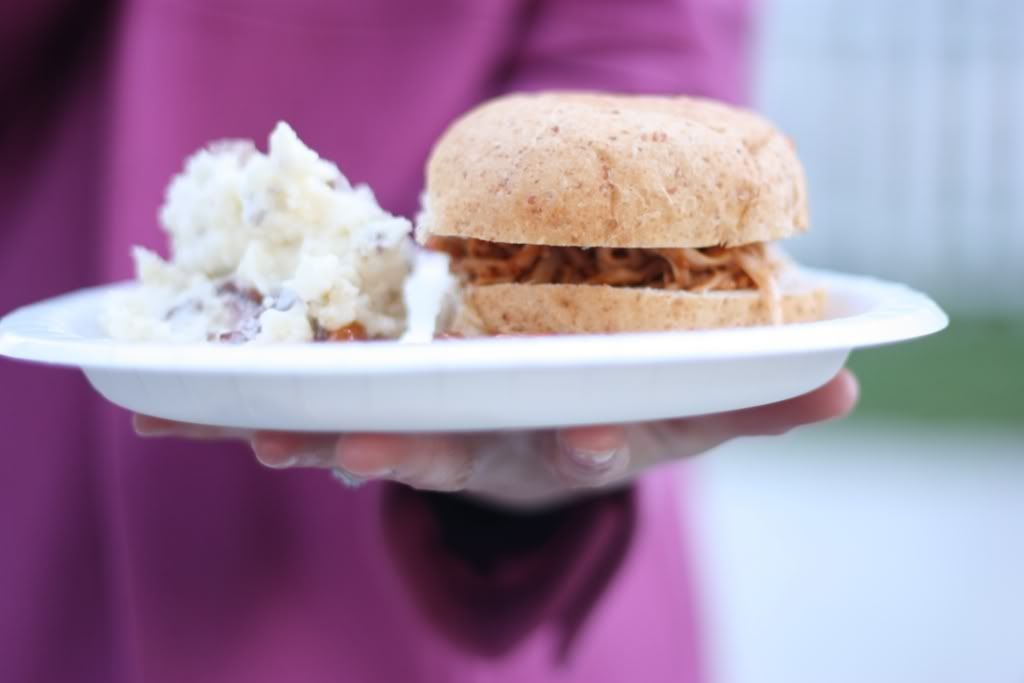 Dinner consisted of pulled bbq turkey and slow-cooked beef  sandwiches, mashed potatoes (Biffer's favorite) and baked beans.
I actually roasted an 11 pound turkey the day of the party and then shredded it, put it in a crock pot with its drippings and bbq sauce.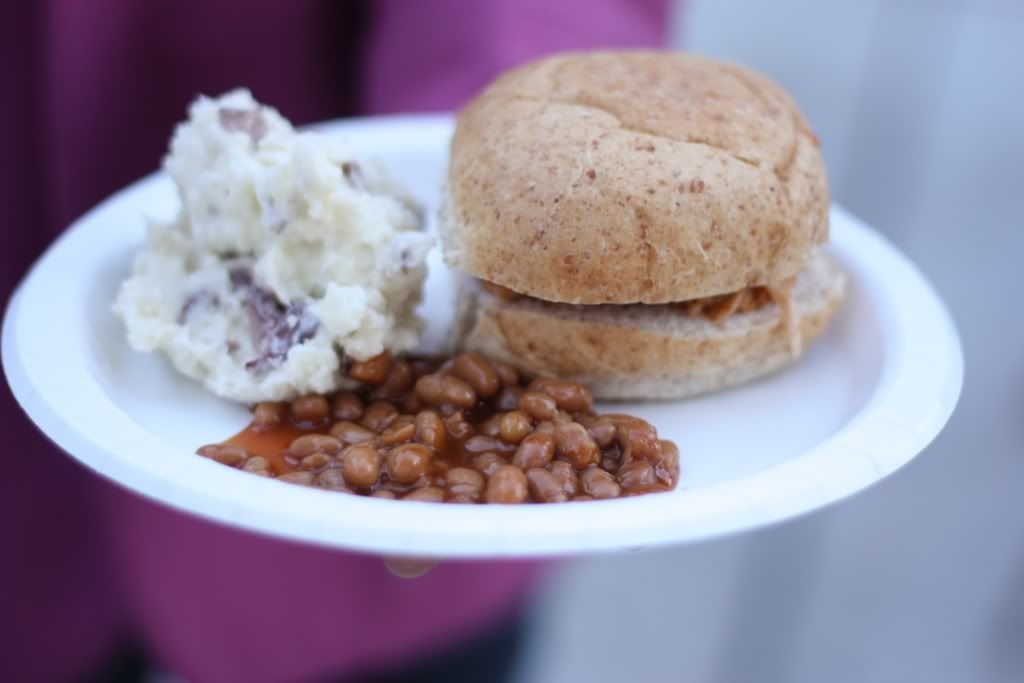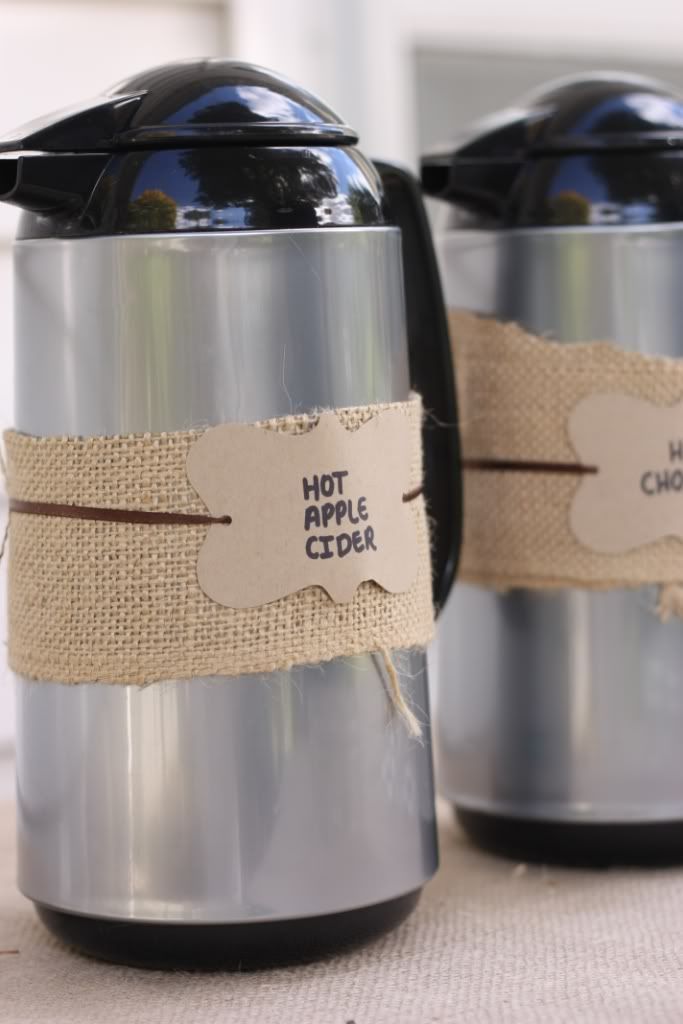 It gets chilly on MN fall evenings so I planned a hot chocolate/hot apple cider/affogato bar.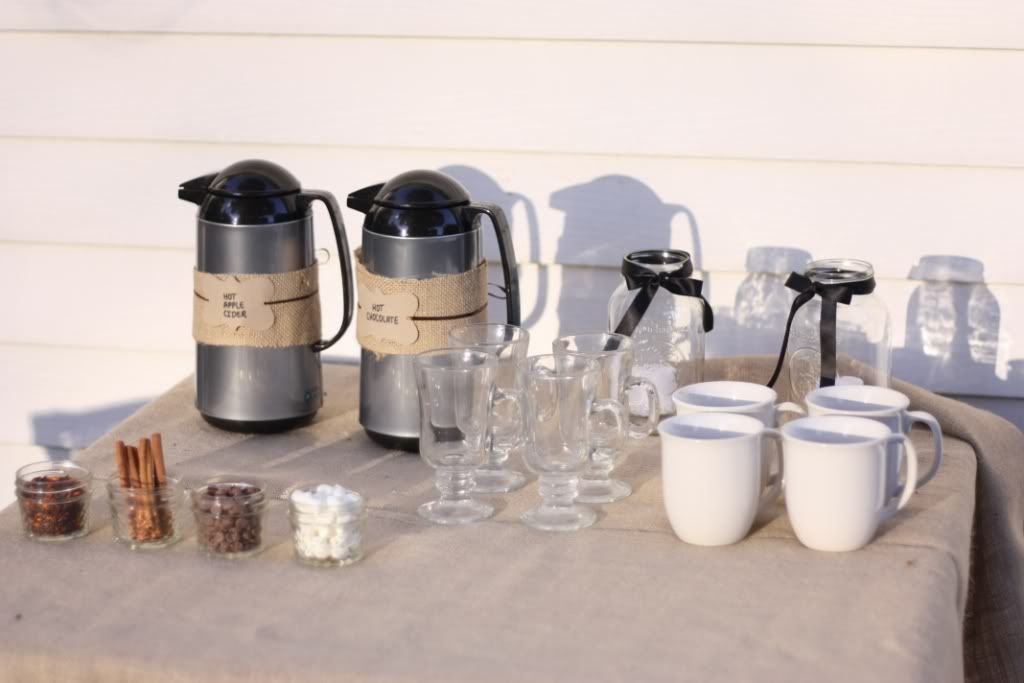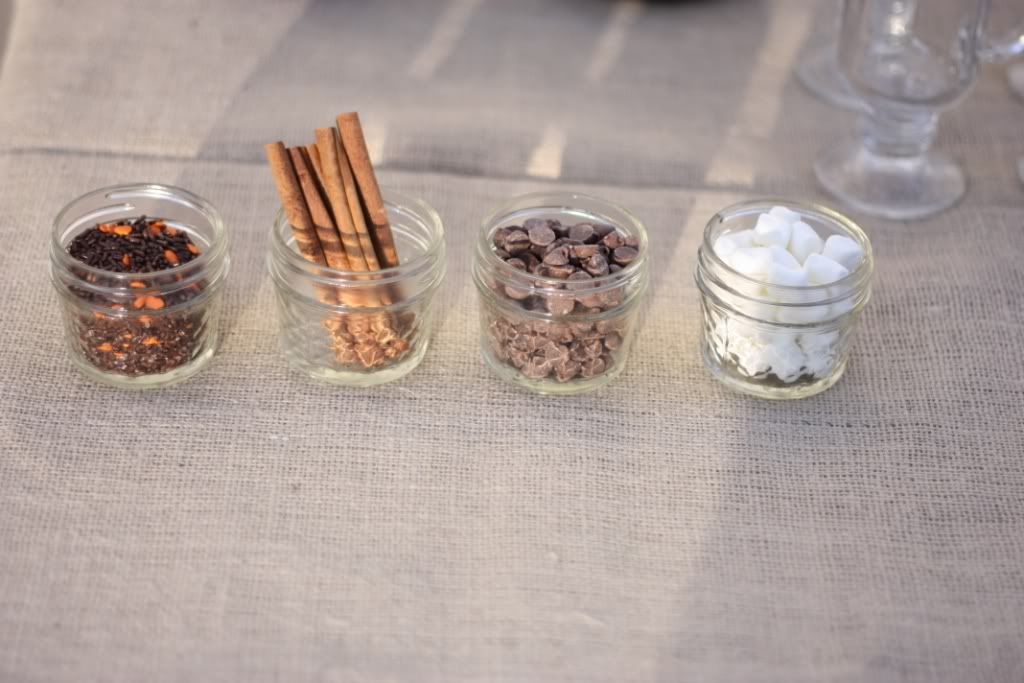 I put the toppings in mini mason jars and included cinnamon candy, marshmallows, chocolate chips, cinnamon sticks and sprinkles.

My sister saw this cute idea of cutting out a heart shape from a marshmallow somewhere in the blogosphere so we used a small heart fondant cutter.  How cute!  Apple cider with a cinnamon stick is pure coziness.  I may have added a splash of vodka to that glass.

A decadant cup of hot cocoa, topped with whipped cream and sprinkles.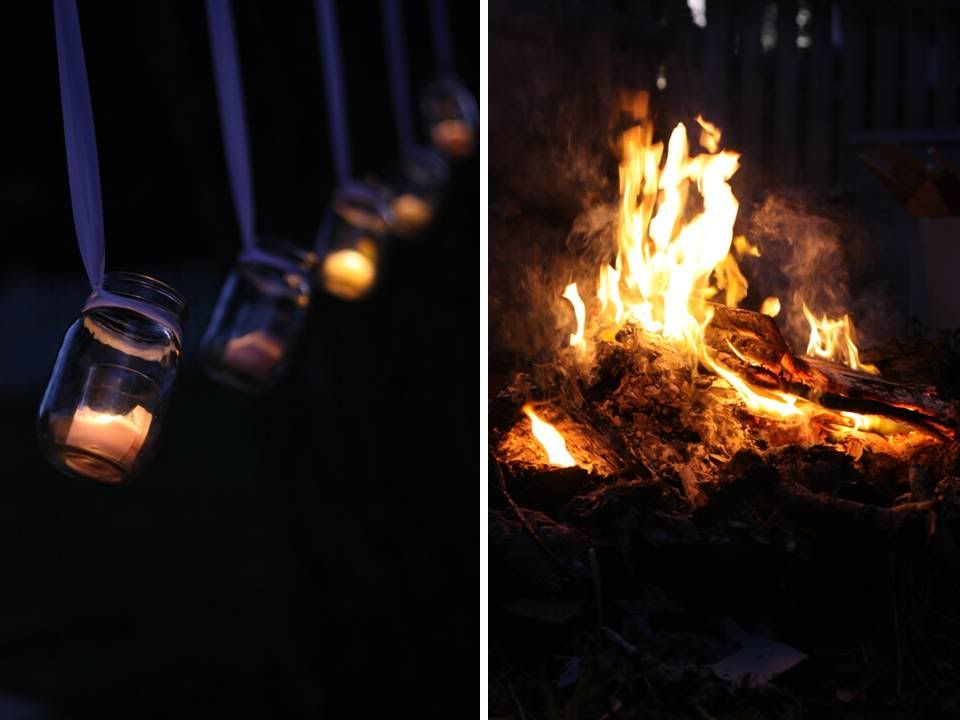 The mason jars hanging from twine had candles inside that glowed as the sun went down.  We got the bonfire blazing which kept us warm.  We finished out the night sitting around fire, had a champagne toast to the awesome couple, and ate s'mores.  It was a great time!

The cute couple.
Do you love fall as much as I do?   I wish I could host a fall party every evening in October!  There is nothing better than sipping a warm drink and sitting next to a bonfire with great friends.
Happy Monday!