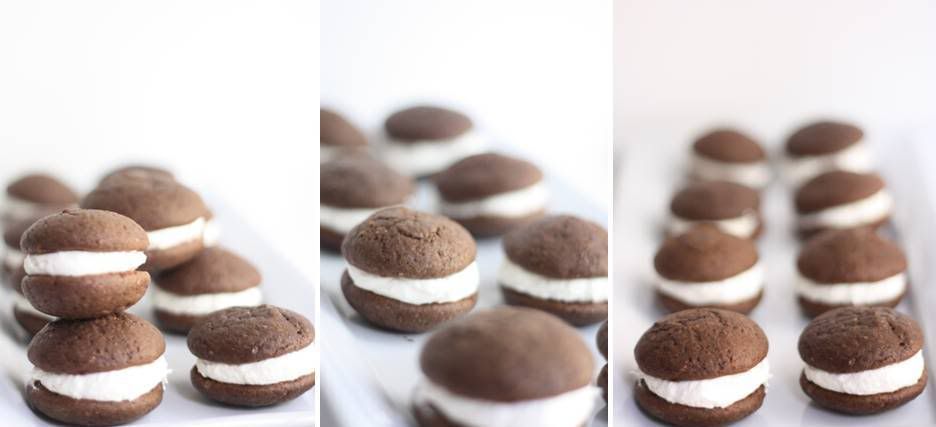 As promised, I spent Sunday morning baking up a storm. After spending time researching different recipes and reading reviews for whoopie pies, I decided on one I found on the iPhone Epicurious app (love that app, by the way).
These Whoopie Pies are by no means healthy, but this recipe uses whole wheat flour. I also reduced the amount of marshmallow cream because I don't like frosting being overly sweet. These desserts were relatively easy. To ensure the little cookie/cakes were all the same size and had a nice shape, I piped the batter onto parchment-lined cookie sheets.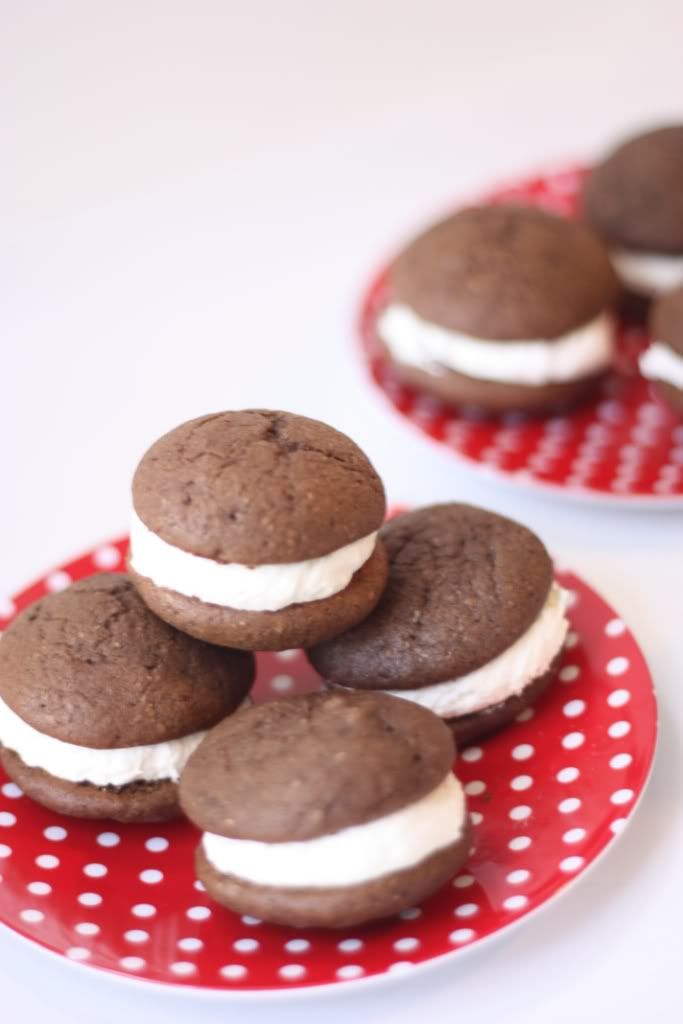 Mini chocolate whoopie pies (recipe adapted from Epicurious)
Ingredients
Cake:
1 1/4 cups unbleached all-purpose flour
3/4 cup whole-wheat flour
1/2 cup unsweetened cocoa, such as Droste
1/2 teaspoon baking soda
1/2 teaspoon fine salt
1 stick unsalted butter, at room temperature
1 cup granulated sugar
1 large egg
1 cup milk
Filling:
1 stick unsalted butter, softened
1 1/2 cups confectioners' sugar
1/2 teaspoon vanilla extract
1 cup marshmallow cream
Arrange the oven racks in the upper and lower thirds of the oven and preheat the oven to 425°F. Line 2 large baking sheets with parchment paper.
Make the cakes:
Whisk together the flours, cocoa, baking soda and salt in a medium bowl.
Cream the butter and sugar in the bowl of an electric mixer at high speed until fluffy, about 4 minutes. Add the egg and beat at medium speed until incorporated. At low speed, add the flour mixture in 2 batches, alternating with the milk, mixing until just blended.
Pipe 1 inch rounds of batter onto each sheet, leaving about 2 inches between cakes (instead of piping the batter you can also use the drop method). Bake the 2 sheets at the same time, 5 to 7 minutes, until springy to touch. Let cool on the sheets for 5 minutes, and transfer to racks to cool completely. Change the parchment and repeat using the remaining batter.
Make filling:
Beat the butter and confectioners' sugar at low speed until blended and then beat at high speed until fluffy, about 5 minutes. Add the vanilla and marshmallow cream and mix at low speed until blended, about 1 minute.
Match pairs of cake with the same shapes and spread the bottom side of 1 cake with filling and sandwich together with the other cake. (Store the finished whoopee pies in a covered plastic container and chill for up to 3 days.)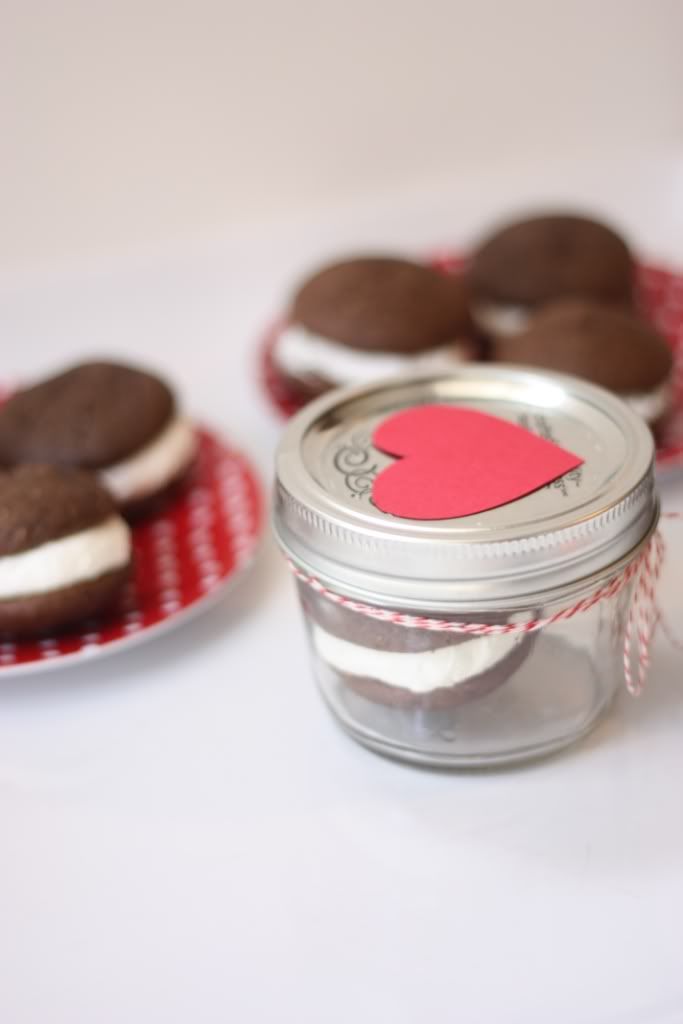 Since these guys are pretty sticky, putting them in cellophane bags wouldn't be the best. Instead, I tried to package them in short canning jars, but then you can only fit one, and that's just not enough. These are really yummy and I wanted to eat like 16 of them (but then I remembered I'm in 3 weddings in the next 6 weeks).
Definitely give these a try. They are satisfying treats and would look adorable on top of a cake platter stacked on top of each other for any party.
Happy Monday!