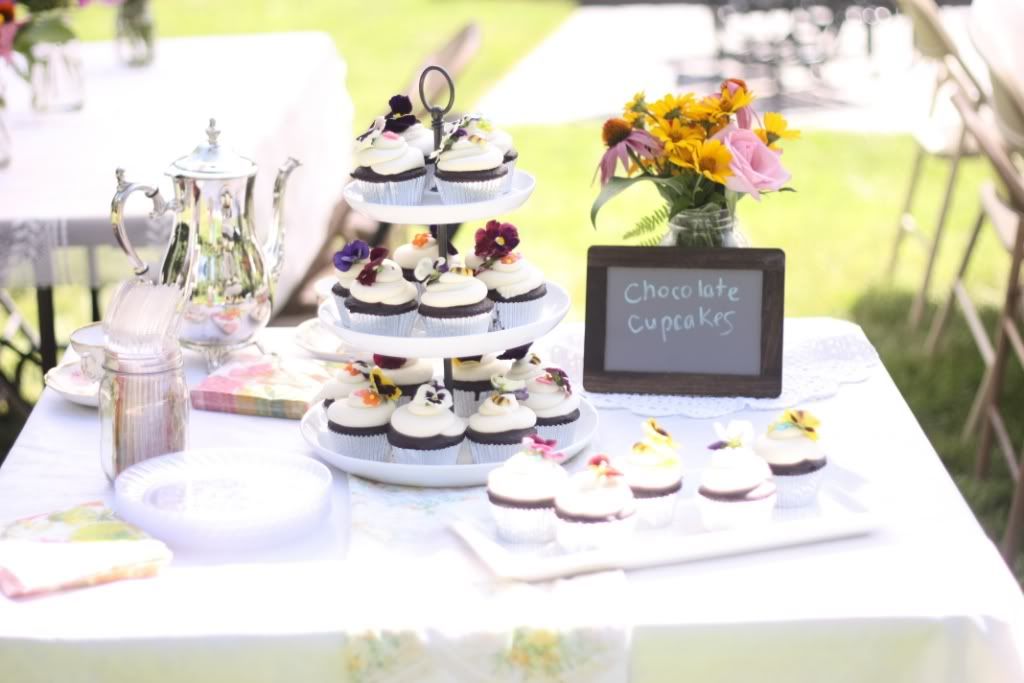 I am so excited to share part 2 of the vintage/garden bridal shower I co-hosted because today is all about the delicious brunch menu, yummy cupcakes and more fun details!
Be sure to check out
part 1
!
We had a brunch cocktail table set up with build-your-own mimosas, bellinis and bloody mary's. If you haven't noticed already, I am a huge fan of alcoholic beverages at showers.
I used a free download for the drink tags via
Eat Drink Chic
. I absolutely love finding free downloads for party stationery. I am beginning to think I should create a section on this blog that has a list with links to all the great free downloads out there. Would that be something you (dear readers) would use?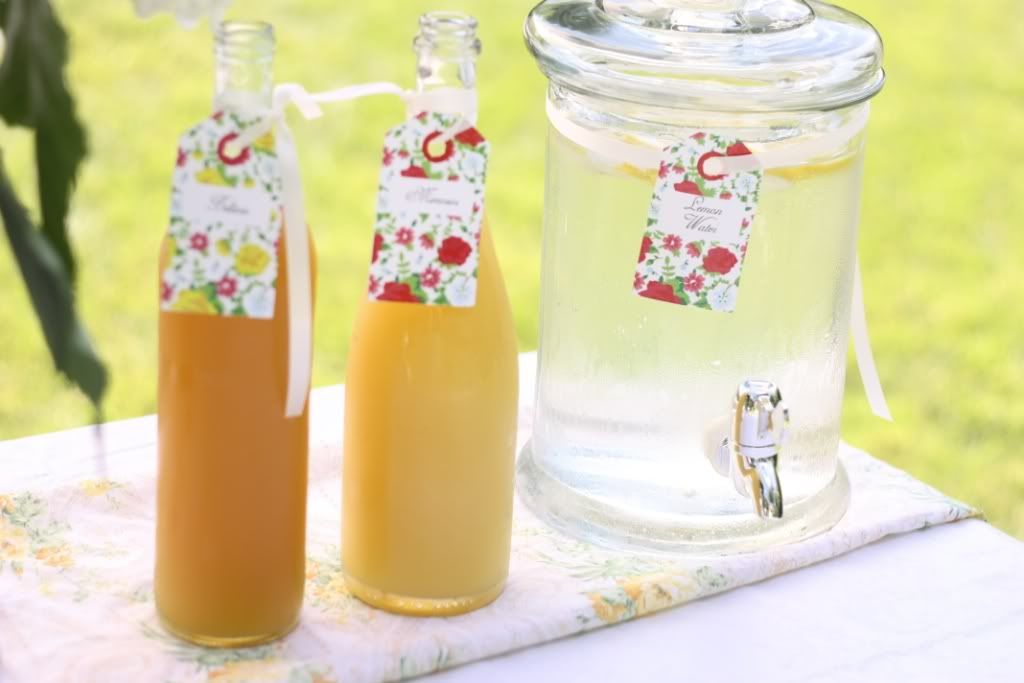 We used clear wine bottles for the peach juice and orange juice.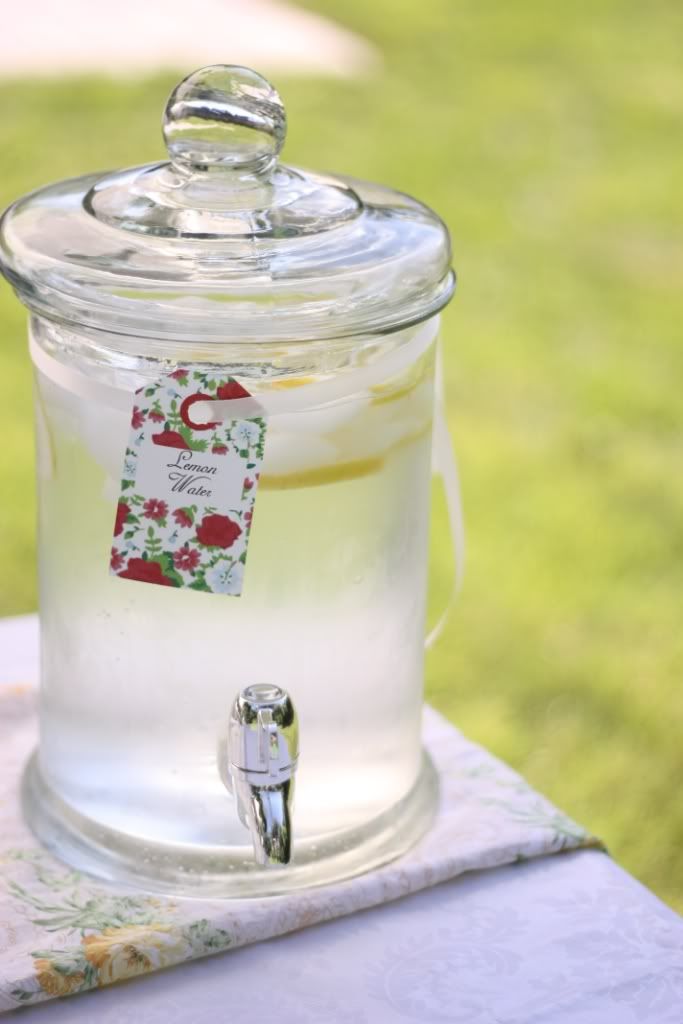 A pretty drink dispenser filled with refreshing lemon water.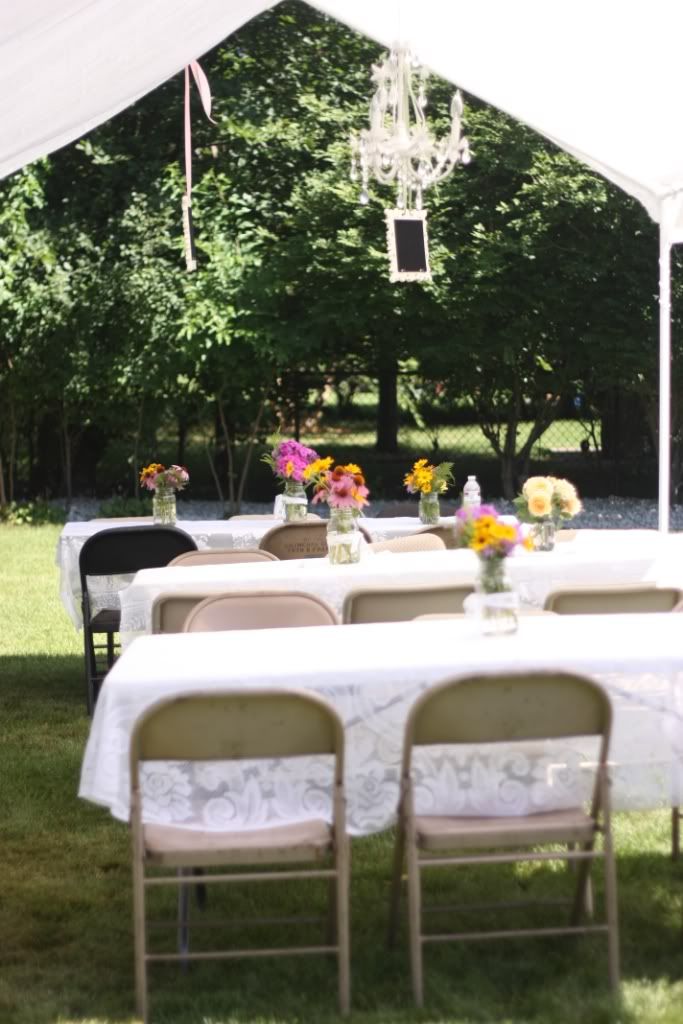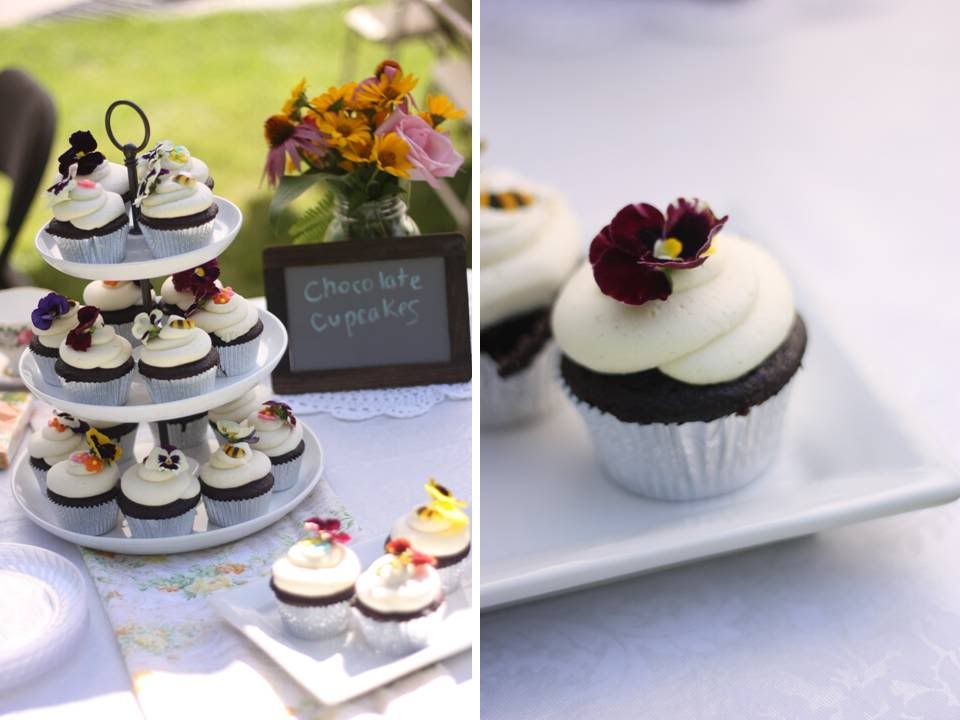 Kristin chose her favorite cupcakes from
Cafe Latte
in St. Paul for dessert, chocolate with vanilla buttercream. I embellished them with an edible pansy from one of my favorite
Mpls Farmers' Market
vendors,
Dehn's Garden
.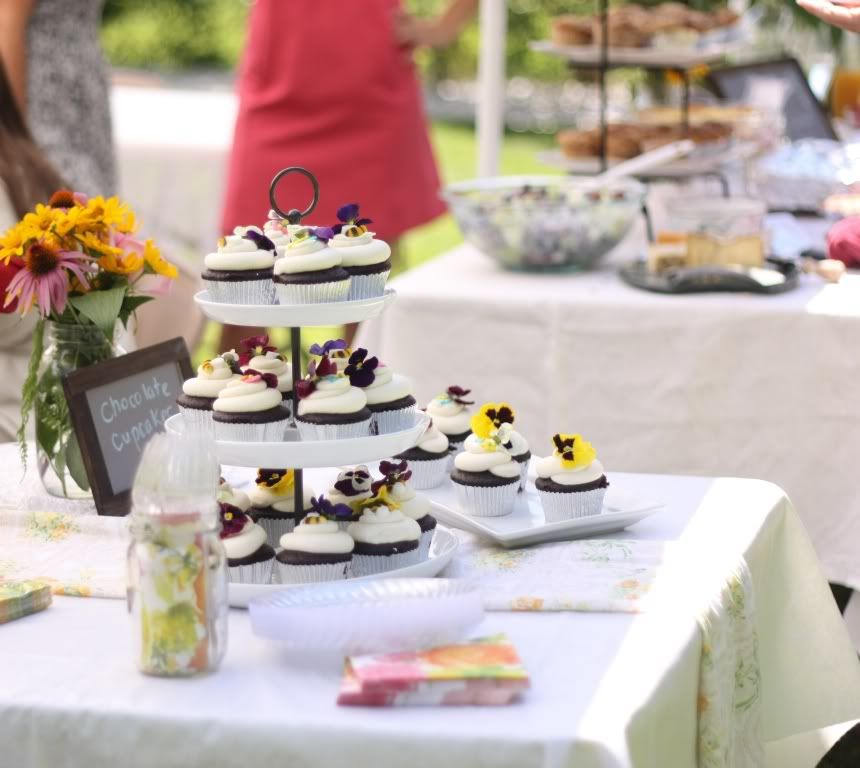 A side view of the dessert table
I purchased mini chalkboards from JoAnn Fabrics, stained the wood frame and used them to label the dessert. I was running out of time at this point and some of the details toward the end received less attention, like my ugly handwriting, for example.
I also used a (larger) chalkboard to display the menu.
We had an awesome cheese platter as well as four different types of quiche and egg bake. The quiche pictured above was a tomato, basil, mozzarella quiche and was delicious.
Tomato, basil, mozzarella quiche (recipe adapted from
All Recipes
)
Ingredients
1 tablespoon olive oil
1 onion, sliced
2 tomatoes, peeled and sliced
2 tablespoons all-purpose flour
1/4 - 1/2 cup fresh basil
4 eggs, beaten
1/4 cup milk
1 Tbsp dijon mustard
1 Tbsp sour cream
salt and pepper to taste
1 (9 inch) unbaked deep dish pie crust
1/2 fresh mozzarella ball (you can use more but I only used half)
1/4 cup shredded parmesan
Directions
1.Preheat oven to 400 degrees F (200 degrees C). Bake pie shell in preheated oven for 8 minutes. Remove and lower heat to 350 degrees.
2.Meanwhile, heat olive oil in a large skillet over medium heat. Saute onion until soft; remove from skillet. Sprinkle tomato slices with flourl, then saute 1 minute on each side. In a small bowl, whisk together eggs, dijon, sour cream and milk. Season with salt and pepper.
3.Place the tomatoes in the bottom of pie crust. Layer onions, basil and cheese. Cover with egg mixture.
4. Bake for 20 minutes and then sprinkle with the parmesan. Bake for another 20-25 minutes until filling is puffed and golden brown. Serve warm.
We also served a potato, artichoke, onion and goat cheese quiche that was bursting with flavor. Click
here
for the recipe but please note these modifications I made; used sliced red potatoes that had been cooked in a 400 degree oven for 15 minutes instead of canned potatoes and substituted red onion for green onion and used goat cheese instead of swiss.
Delicious
cinnamon-rhubarb muffins
.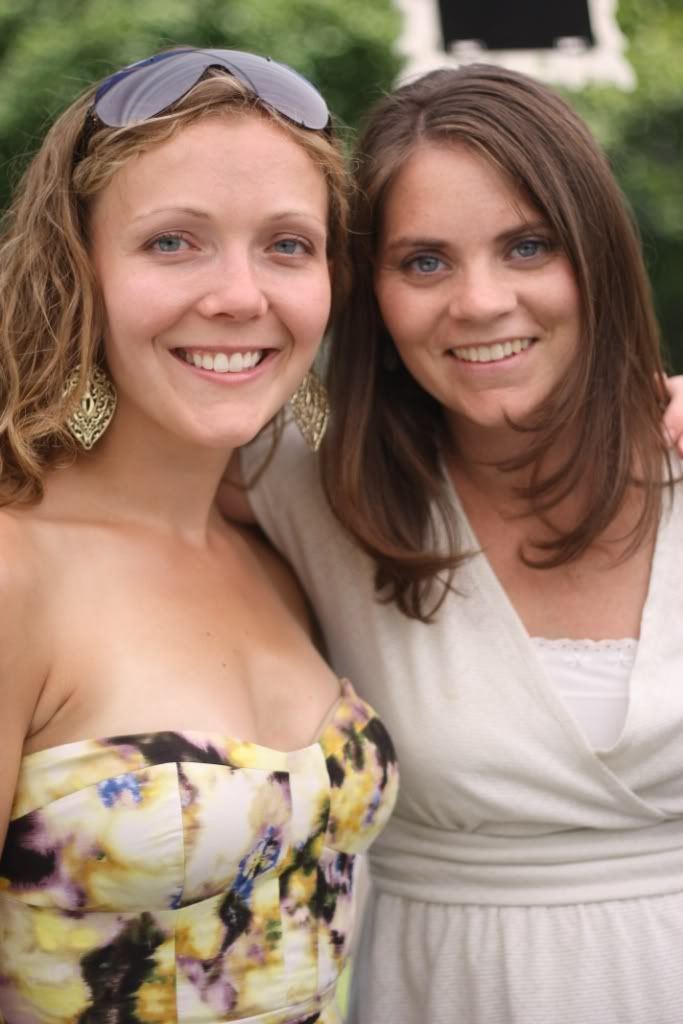 Kristin (the bride-to-be) and one of her bridesmaids, Molly.
The shower was a huge success and I am thrilled with how everything turned out. A lot of the elements incorporated into the shower were re-used from another occasion or DIY. It was a very budget-friendly shower and all the details were fairly easy and approachable.
My next event is a Mexican fiesta bachelorette party for my sister coming up in a couple weeks...and I am traveling to NYC with a bunch of girlfriends for my friend Amy's bachelorette party. Have I mentioned that my two besties and my sister are all getting married within the next 12 weeks??? It is complete insanity but has also been very fun!!!