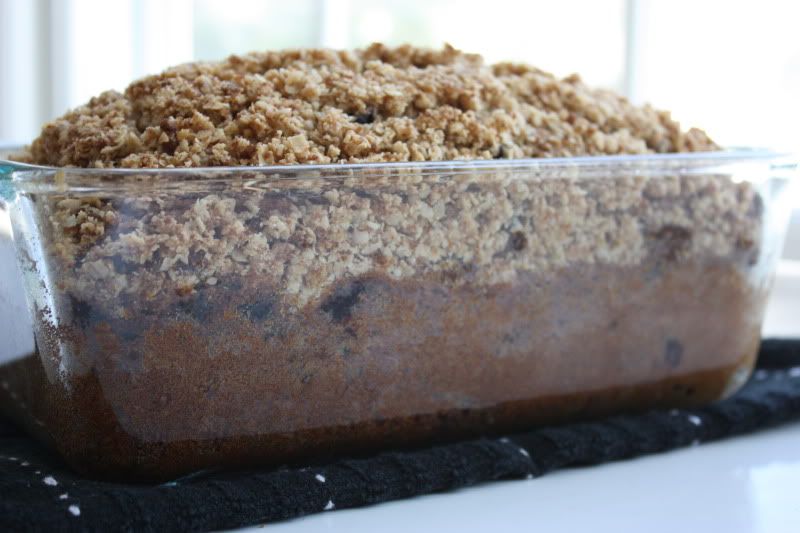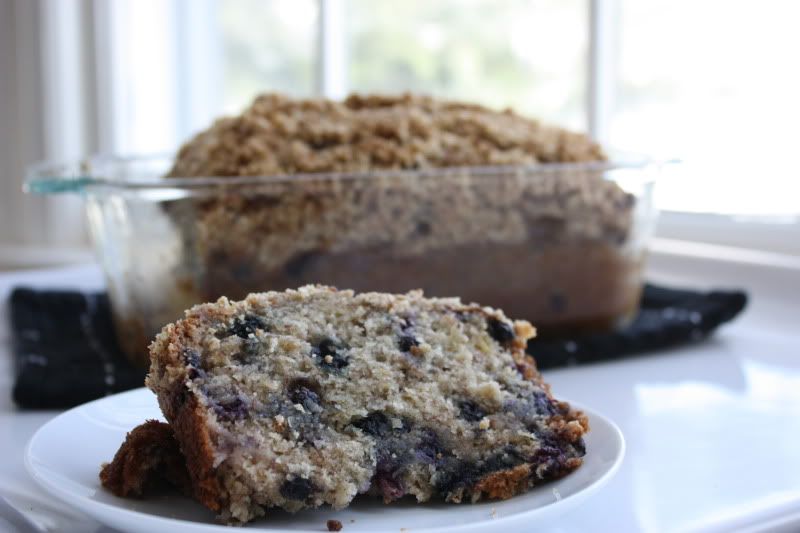 Blueberry banana bread (recipe from
My Recipes
)
Ingredients
1 cup fresh blueberries, rinsed and drained, or frozen blueberries
2 cups plus one tablespoon all-purpose flour
3/4 cup granulated sugar
1 teaspoon baking powder
1/2 teaspoon baking soda
1/2 teaspoon salt
1/2 teaspoon ground cinnamon
1 cup mashed ripe bananas (2 to 3)
1/2 cup low-fat buttermilk
6 tablespoons butter, melted and cooled
1 large egg
Oatmeal Streusel
In a bowl, combine 1/4 cup each all-purpose flour, regular rolled oats, and chopped dried banana chips; 2 tablespoons each firmly packed brown sugar and butter, cut into chunks; and 1/4 teaspoon ground cinnamon. Mix with your fingers until fine crumbs form.
Note - I skipped the chopped dried banana chips.
Preparation
1. Preheat oven to 350°.
2. In a small bowl, gently mix blueberries with 1 tablespoon of the flour.
3. In another bowl, blend remaining 2 cups flour, the sugar, baking powder, baking soda, salt, and cinnamon.
4. In a third, large bowl, whisk bananas, buttermilk, butter, and egg to blend. Stir flour mixture into banana mixture just until evenly moistened; the batter will be stiff. Gently stir in blueberry mixture.
5. Spread batter level in a buttered 5- by 9-inch loaf pan. Sprinkle with oatmeal streusel and press in lightly.
6. Bake bread in preheated oven until a toothpick inserted in the center comes out clean, 60 to 70 minutes.
7. Let bread cool in pan on a rack for 10 minutes, then run a knife around edges to loosen. Invert bread onto a plate, remove pan, and turn over onto rack to cool completely, about 45 minutes.
Nutritional Information
Calories:319 (31% from fat)
Protein:4.8g
Fat:11g (sat 6.8)
Carbohydrate:51g
Fiber:1.8g
Sodium:347mg
Cholesterol:48mg
This blueberry banana bread is delicious and simple. The oatmeal streusal topping sets it apart from typical banana bread. Prep is quick but the baking time is not. I had it in the oven for about 75 minutes (it was worth the wait).