here
for part 1 and
here
for part 2.
________________________________________________
Today's recipe is one of just a handful recipes I cook that are non-vegetarian. Several months ago, my finance and I were watching Rachel Ray's cooking show. Rachel was making a Chicken Tikka kabob recipe that my finance exclaimed "looked delicious." I took a portion of her recipe, and gave it my own spin. After realizing how quick and easy it was for me to cook, and the fact that my finance thought it was delicious, I've stuck by the recipe as an quick and easy way to feed my non-vegetarian friends. If you're a vegetarian like me, you may also like this recipe because it involves minimal interaction with the chicken- something that is good because I'm not very adept at cooking chicken!
The original recipe also calls for "curry powder." Recall from my earlier post that curry powder is not really used in Indian households, but if you have some you can use it in this recipe! (Jay and I actually inherited a bottle, so we do have this on hand).
If you do not have curry powder, here is a simple curry powder recipe:
3 tablespoons of turmeric
2 tablespoons of ground coriander
1 tablespoon of ground cumin
1/2 tablespoon of black pepper
1/2 teaspoon cinnamon
1/2 teaspoon of chili powder or paprika
1/2 teaspoon ground caradmom pods
optional to your curry powder
1/2 teaspoon clove
1/2 teaspoon dried garlic and/or onion
As with most Indian cooking, there are a million different ways to make curry powder (just google it!) And now my Chicken Tikka Recipe
Easy Chicken Tikka
1 cup plain yogurt (non-fat is ok, but tends to make the recipe a bit more watery)
1 heaping tablespoon mild curry powder
1 teaspoon ground ginger*
1 teaspoon chopped garlic*
1 tablespoon lemon juice
1/2 teaspoon chili powder
Pinch of Salt and Black Pepper
A handful (3 tablespoons) cilantro leaves, finely chopped
2 pounds boneless, skinless chicken breast meat, cut into 1 1/2-inch cubes (you can use frozen chicken breasts too)
1 teaspoon black mustard seed (omit if you do not have black mustard seeds - do not substitute for yellow)
2 tablespoons oil
* Alternatively use ginger and garlic paste.
1) In a large bowl, combine yogurt, lemon juice, curry powder, ginger, garlic, chili powder, salt, and cilantro.
2) Chop chicken into bite size pieces. Sprinkle with salt and pepper.
3) Stir chicken into yogurt mixture, cover, and marinate for 20-30 minutes.
4) Heat oil over medium medium heat and put in mustard seeds. Cook mustard seeks for 10 seconds, or until they begin to pop.
5) Take pan off heat to allow to cool down for 45 second - to one minute. Add chicken/yogurt mixture into pan.
6) Saute chicken for 10-15 minutes on medium heat or until cooked through.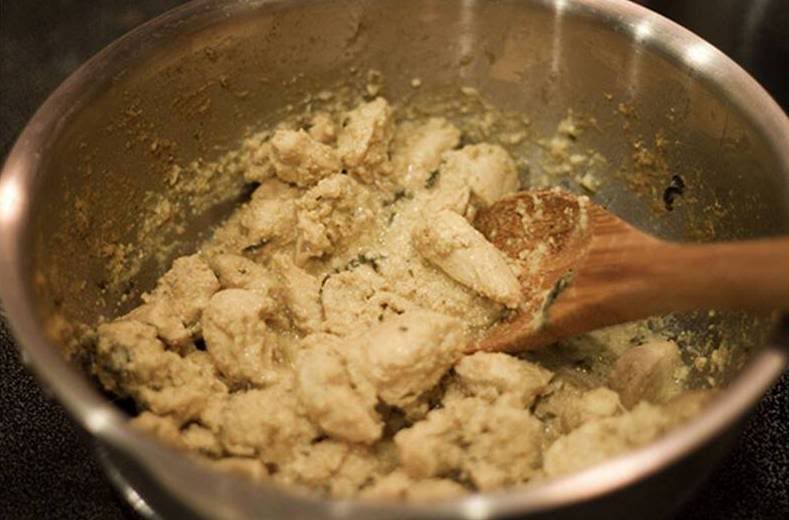 7) Sprinkle some chopped cilantro on top and serve with warm bread or rice. Enjoy!
Today's guest post in part 3 in the series "Rani in the Kitchen" by my friend Amy. Click